Visit
ⓘ The Jackson House Museum will be open on Sunday, May 29 and Monday, May 30 from 9am – 5pm in honor of the Memorial Day weekend.
We have taken the PACT pledge, which shows our dedication to Protecting All Citizens and Travelers by providing consistent, dependable, and sustained levels of safety and service while in our museum. To learn more about the PACT and other participating businesses, please visit https://lexingtonvirginia.com/directory/pact-participants.
---
Weekly Hours

Open Tuesday – Saturday, 9 a.m. - 5 p.m.
Our store and exhibit gallery are open from 9:00am -5:00pm.
Special Guided tours are offered at 9:00am and again at 4:00pm. Visitors can experience self-guided tours of the house between 10:00am and 4:00pm.
We are closed to the public in January and February.
---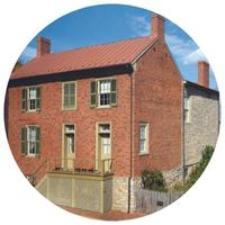 Adult (18+): $10
Youth (6-17): $7
Children (0-5): Free
VMI Cadets/Faculty/Staff: Free (Family members accompanying cadet will also receive free admission)
VMI Alumni: Free (Spouse accompanying Alumnus will also receive free admission)
Discounts (with valid card) AAA, Active Military, Retired Military:
Adult (18+): $8
Youth (6-17): $5
Need special assistance while at the Jackson House Museum? Call us at 540-464-7704 or email us to arrange for assistance.
---

Self-Guided Tour
Self-guided tours of the house are offered from 10:00am – 4:00pm. Visitors can go through the site at their own pace while watching videos of the house and garden. Video tours offer insight into the daily life of Thomas and Anna Jackson.
Master Guide Tour
During these new tours, guests will be treated to exclusive access to the house and grounds to connect with our dedicated museum staff offering insight into new topics. These special tours are offered twice daily at 9:00am and again at 4:00pm. Tickets for the daily themed tours are available on a first come, first served basis. Visitors can reserve their themed tour tickets by either visiting the Jackson House museum store or contacting the Jackson House via phone or email. (include links with number and email). Check out our events page for more details about this month's themed tour and future themed tours.
Visitors who purchase tickets to the Master Guide Tour will receive free access to the self-guided tour.
Exhibit Gallery
Explore the exhibit gallery, located next to the museum store. Exhibits cover Thomas Jackson's life, the history of the house, and more. Exhibits include over 60 artifacts that belonged to the Jackson family. The gallery is open from 9:00am – 5:00pm and is free to the public.
Group Tours
Have a group of 10 or more? Reservations must be made and confirmed 72 hours in advance. Call us at 540-464-7704 or email us at stonewalljacksonhouse@vmi.edu.
Special Group Rates:

School Groups:

Adult (18+): $8

Youth (6-17): $5

Children (0-5): Free

Group Leader and Bus Driver: Free

Chaperons: $7

Students: $3

Teachers: Free