Union Army
Union Army Commanders
Commander of Union Department of West Virginia
Born: 1824
Where: Sinsheim, Baden
Military Service: An officer in August Willich's German Republican Army. Sigel commanded one of the four columns in April 1848 and was defeated at Freiburg. He fled to Switzerland and returned a year later to participate in a new revolution. He commanded troops guarding Baden's frontier and was again defeated.
Immigration: He came to the United States in 1852 and became an administrator of a German language school in New York. He eventually moved to St. Louis and became director of the city schools in an area with a large German immigrant population.
Civil War Military Service: Sigel was drilling a new regiment of volunteers in St. Louis when war was declared. He participated in the successful capture of armed Southern sympathizers at Camp Jackson on May 10, 1861. His next action was a skirmish near Carthage, Missouri on July 5, 1861. These twin victories made him a folk hero among the German immigrants and his appointment as a brigadier was thought to bring valuable votes. His poor service during the Battle of Wilson's Creek on August 10th contributed to the severe defeat of US forces there. He was blamed severely for the defeat but found his popularity among the ranks was still good. In November, Major General John C. Fremont was appointed as the commander of Union forces in Missouri. Many Germans were outraged that the job wasn't given to Sigel, including the general himself. A private letter calling General Halleck a "slick lawyer" made it into a newspaper and the blood feud between the two only escalated. He tendered his resignation from the army a short time later. Sigel traveled to the capitol to rally support for his promotion. He talked to important Germans including prominent Midwest Congressmen. The promotion to Major General came in March of 1862.
The same month he fought well at the Battle of Pea Ridge and replaced John C. Fremont in command of a Corps in Virginia. Later that year he fought in Jackson's celebrated Valley campaign and in the second battle of Manassas. He would later temporarily command a grand division during Burnside's Fredericksburg campaign but would not see any action there. He was returned to his corps a few days later and remarked it was "exceedingly unpleasant." Sigel asked to be relieved and in February of 1863 went home for medical reasons. His standing among fellow Germans was greater than ever, and he continually lobbied his cause with speeches in major cities. Sigel was officially appointed to command the Department of West Virginia by order of the War Department on February 29, 1864. He reached the headquarters in Cumberland, Maryland on March 11 to the sounds of an artillery salute. His new department included the state of Maryland west of the Monocacy River, some of Loudoun County, Virginia, the Shenandoah Valley and West Virginia.
Sigel's part of the new campaign was designed to take troops away from Lee, destroy supplies and regain loyal territory. His mission was to assemble a force to march on Staunton. The cavalry under Averill and Crook would be supplied there for the move on Lynchburg. Grant's orders to Sigel were to be ready to move by May 2, 1864.
He began to assemble his expedition force on April 20 in Martinsburg, West Virginia. The general arrived at the headquarters on April 25 to personally inspect the assembled troops. Sigel ordered a grand review of his army on April 27. The parade was a dismal failure; no one could seem to find their position in line. One soldier lamented that… "such a time as we had finding our places in the line was never seen before." The final troops attached to Sigel's army arrived in town on April 28. His force would consist of one infantry division with two brigades. The cavalry was organized into a division with two small brigades and the artillery attached to force consisted of five batteries. The general sent marching orders to all commanders at five O'clock on April 29. Threatening weather and sore feet caused them to bivouac near Bunker Hill. On April 30, the command stayed in camp and drilled for four hours.
On May 1, the army was again in full swing up the Valley to Winchester. It arrived there late that afternoon around 4:30 P.M. Captain John McNeill raided the B&O Railroad shops near Piedmont, MD on May 5 leaving behind only smoke and ashes. Sigel under pressure sent out Colonel Jacob Higgins with 500 men of the 22nd PA and 15 NY cavalries. The orders were to intercept Captain McNeill. That same day the commanding general ordered a sham battle, which again ended in a confusing debacle for some like the 34th Massachusetts Infantry. This unit advanced as skirmishers and was forgotten. The same battle was ordered again the next day with a similar conclusion, leading Colonel Wells to say…"I've lost all interest in it and the service…I won't serve under such fools; and you are a fool if you do".
On May 8 orders for the commanding general were issued to march at 6:00 A.M. The command finally moved on May 9 at 7:00 A.M. with orders to proceed to Woodstock. A large cavalry screen of advanced guards and flankers protected the infantry. The eastern detachment of 300 troopers of the 1st NY (Lincoln) Cavalry was sent to Woodstock and then to New Market to secure the road to the gap.
The detached horsemen of Jacob Higgins finally caught up with McNeill on the evening of May 7 and forced them to withdraw. By May 10, John Imboden with 800 men had set a trap for the men from Pennsylvania and New York at Lost River. A short engagement ensued, then a race for the Potomac. The fleeing Yankees galloped through Romney and then on to Old Town, MD. This ambush cost Sigel 500 cavalry when they were needed the most. The next cavalry engagement occurred at the base of Massanutten Mountain across Smith's Creek on May 13. The forces were from Boyd's column and Imboden's district troops. The Union loses totaled over 100 and led to another mismanagement of men and materiel.
On May 14 the chief of staff Major General Julius Stahel ordered Colonel Moor to advance on Rude's Hill outside of New Market with about 1/3 of the army. Sigel issued orders to march on Mount Jackson at 5:00 A.M. The general arrived at Moor's line about noon on May 15th and ordered a retreat. On the new defensive position on Bushong's Hill, he ordered a charge of the 34th Mass., 1st WV, and the 54th PA: 1700 men near 3:00 P.M. The attack repulsed, his lines broken led to a full retreat to the pike. The army had crossed the river and fired the bridge around 7:00 P.M. Sigel telegraphed his superiors at 8:00 P.M. stating that …A severe battle was fought today at New Market between our forces and those of Echols and Imboden under Breckinridge. Our troops were overpowered by superior numbers." Orders from headquarters went out to the men at 9:00 P.M. to march to Edinburg. The army arrived outside of Strasburg at 5:00 P.M. on May 16. Sigel sent a wagon loaded with supplies back to the town under a flag of truce on May 17, the same day he crossed Cedar Creek.
On May 19, the War Department officially replaced Sigel with a Major General David Hunter. Hunter arrived at Sigel's headquarters at the Hite House. Sigel was offered his choice of lesser command and chose the reserves in Harper's Ferry. Strother noted during a final visit with the general on May 22, that …"the tears were standing in his eyes and his lips were quivering."
When General Hunter left in May, Sigel was left with almost 10,000 reserves in Martinsburg, WV. General Early sent a command of cavalry to the town during his expedition to Washington in July. Sigel fled without much of a resistance on July 3, leaving huge amounts of military supplies to the enemy. He was permanently relieved of command on July 7. He went home to await orders that never came and resigned his commission on May 4, 1865.
In 1867 he moved to New York and was made a commissioner of the Hudson River West Shore Railroad. He was made vice-president the next year but declined to make an unsuccessful bid at the secretary of state for New York. In 1871, President Grant placed him on a commission to purchase Santo Domingo. He held several minor appointed offices and lectured throughout his senior years. He began an autobiography that was never completed. He died on August 21, 1902.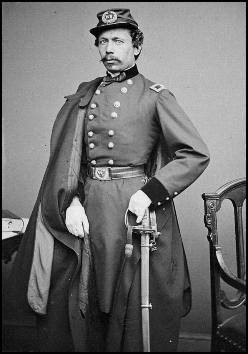 Source: Generals in Blue
Julius Stahel, whose Hungarian surname was Szamvald, was born in Szeged, Hungary, on November 5, 1825. After attending school in Szeged and Budapest he entered the Austrian army as a private and rose to lieutenant, but in the struggle for Hungarian independence he cast his lot with the revolutionary cause and, after the movement was suppressed with the aid of Prussia in 1849, fled the country.
He lived in London and Berlin as a teacher and journalist before he came to America in 1859. For the next two years, he was employed by a German-language weekly in New York City. In 1861 he and Louis Blenker recruited the 8th New York (1st German Rifles), becoming lieutenant colonel and colonel respectively; at the first battle of Manassas, the regiment aided in covering the fleeing Union forces from that celebrated debacle. On August 11, 1861, Stahel succeeded Blenker as colonel, and on November 12 was advanced to brigadier general. He fought under John C. Fremont in the Shenandoah in the spring of 1862, opposing Stonewall Jackson. At Second Manassas he commanded the 1st Division of Franz Sigel's corps after the wounding of General Robert C. Schenck and then was in reserve under him and Sigel until he was assigned to command of the cavalry in the Washington defenses in the spring of 1863. When he was promoted to major general of volunteers on March 17, 1863, he ranked immediately after General Phillip Sheridan. In the spring of 1864, General Stahel led a division of cavalry under General David Hunter, again in the Shenandoah and West Virginia, in the course of which both men were virtually forced out of the active theater of war. However, at the Battle of Piedmont on June 5, 1864, he was greatly distinguished in an action which subsequently led to the award of the Medal of Honor in 1893.
Thereafter, he served on court-martial duty until he resigned his commission on February 8, 1865. After the war, he served for years in the consular service in Japan and China. Upon returning to the U.S., he became connected with the Equitable Insurance Company of New York. A lifelong bachelor, he died in a New York hotel on December 4, 1912, at the age of 87 and was buried in Arlington National Cemetery.
Source: Generals in Blue
Jeremiah Cutler Sullivan, son of a Virginia-born lawyer who became a justice of the Indiana supreme court, was born on October 1, 1830, in Madison, Indiana. He entered the navy in 1848 and was commissioned a midshipman, serving at sea on four different vessels before resigning his commission in 1854 to study law. At the beginning of the Civil War, he helped recruit and organize the 6th Indiana volunteers and as a captain took part in the action at Phillipi, Virginia on June 3rd. When the 6th Indiana was mustered out, Sullivan became colonel of the 13th Indiana, which enlisted for three years, and fought at Rich Mountain. During the Shenandoah Valley Campaign of 1862, he commanded a brigade of Shield's division at Kernstown and was commissioned a brigadier general to rank from April 28. Soon after, he was sent west and assigned to command a brigade in W.S. Rosecran's Army of the Mississippi, which he led at the battles of Iuka and Corinth. Later that fall he was put in charge of the District of Jackson, Tennessee, where he had the unenviable job of pitting scattered garrison troops against the forces of Nathan B. Forrest. Sullivan served as acting inspector general on U.S. Grant's staff for a time early in the Vicksburg campaign and after the capitulation became James B. McPherson's chief of staff. In September 1863, he was relieved in the west and returned to duty in the Department of West Virginia under General Benjamin F. Kelley, his father-in-law, who assigned him a division with which to guard the B & O Railroad from the Monocacy River west to Sleepy Creek. After Phillip Sheridan took charge of the Middle Military Division which embraced the Department of West Virginia, in the summer of 1864, Sullivan seems to have been waiting for orders for a time. In March 1865, Winfield S. Hancock stated in an official communication that he wished no officer on duty with who had been sent to the rear by his predecessor Sheridan. General Sullivan's resignation was accepted by the War Department on May 11, 1865, and, perhaps significantly, he did not receive the brevet of major general, despite the fact that he was in divisional command for many months.
After the war he resided in Oakland, Maryland, for a time, moving to California about 1878. Although a lawyer by profession, he did not practice and was employed, when employed at all, in minor clerical jobs. He died in Oakland, California, on October 21, 1890, and was buried in Mountain View Cemetery.
Medal of Honor Recipient
Rank and organization: Sergeant, Company B, 1st West Virginia Infantry
Place and date: At New Market, Va., 15 May 1864
Entered service at: Jefferson County, Ohio
Date of issue: 20 November 1896
Citation
Under a heavy fire of musketry, rallied a few men to the support of the colors, in danger of capture and bore them to a place of safety. One of his comrades having been severely wounded in the effort, Sgt. Burns went back a hundred yards in the face of the enemy's fire and carried the wounded man from the field.
There is only one Medal of Honor awardee from the Battle of New Market and his medal is now permanently on display at the museum.
| | | |
| --- | --- | --- |
| James M. Burns | Medal of Honor - Front | Medal of Honor - Back |