SMC CyberFusion
Inaugural Event: August 2-3, 2021
Building on the highly successful annual Commonwealth Cyber Fusion event, please join our Senior Military College (SMC) Cyber Fusion event. This cybersecurity immersion experience is the first in a series of events to take place at the SMC's in the coming years as part of the joint DoD Cybersecurity Leadership Development Program.
The SMC Cyber Fusion event includes a team-based, real-world scenario decision-making exercise in partnership with the Norwich University Applied Research Institute, and a CTF team competition in partnership with the Virginia Cyber Range. This event will also include guest speakers, an expert panel, and networking opportunities. The SMC Cyber Fusion cup will be presented to the winning team.
SPONSORED IN PART BY THE DEPARTMENT OF DEFENSE
Learn more about this event in the SMC Cyber Fusion 2021 Program.
---
Keynote Speaker
Dr. Deborah Frincke, Associate Laboratory Director for National Security Sciences
Oak Ridge National Laboratory
For over two decades, Dr. Frincke has led security-related research and development within organizations both public and private, including two U.S. Department of Energy national labs and the National Security Agency (NSA). She currently guides Oak Ridge National Laboratory's efforts to solve complex threats to America by developing new science as well as leveraging the Lab's broad scientific portfolio, especially cyber, cybersecurity, nuclear and uranium science, high-performance computing, analytics, materials science, and advanced manufacturing. A founding member of the NSA Board of Directors, Dr. Frincke has served on the Intelligence Community Steering Committee for Artificial Intelligence and co-chaired the White House Committee on Economic and National Security Implications of Quantum. She is a U.S. representative to the NATO Emerging and Disruptive Technologies Advisory Board and is an Association of Computing Machinery Fellow. She has received the NSA Distinguished Civilian Service Medal and the USA Presidential Rank Award for Distinguished Executives.
---
Schedule
Monday, August 2, 2021

Tuesday, August 3, 2021

7:15 – 7:30 AM: Van Shuttles from hotel to VMI

8 - 8:45 AM: Registration & Full Breakfast

8:45 – 9:15 AM: Welcome & Introductions

9:15 -10 AM: Keynote Speaker

10 – 10:15 AM: Morning Break

10:15 – 11:15 AM: Expert Panel

11:15 – 11:30 AM: Break

11:30 AM -12:30 PM: Enabling IoT Vulnerability Analysis

12:30 – 1:15 PM: Lunch

1:15 - 5:15 PM: Decision Making Exercise

5:15 – 5:30 PM: Break

5:30 – 6PM: Competition Instructions

6 - 7 PM: Post Tour led by VMI Cyber Captains

7 PM: Dinner on the Town

8:30 PM: Van Shuttle back to hotel

6:45 AM: Van Shuttles from hotel to VMI

7 - 8 AM: Full Breakfast

8 - 12 PM: CTF Competition & Concurrent Challenge for Observer Students

9 - 10:30 AM: Faculty Roundtable – moderated discussion on issues, challenges, solutions in cybersecurity education at SMC's

12 - 1 PM: Lunch

1 PM: Review of Competition and Announcement of Winning Teams

1:45 PM: Van Shuttle from VMI to airport
---
Event Organization Team
Col Mohammed Eltoweissy
Director
313D Mallory Hall
eltoweissymy@vmi.edu
(540) 464 – 7939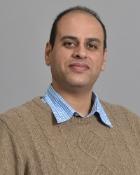 Dr. Mohamed Azab
Assistant Professor
207B Mallory Hall
azabmm@vmi.edu
(540) 464 – 7972


Ms. Chelsea Bendick
Administrative Assistant
313C Mallory Hall
bendickcl@vmi.edu
(540) 464 – 7496


Mr. David Jones
Cybersecurity Scientist
312 Mallory Hall
jonesdm@vmi.edu
(540) 464-7041
Lt. Col. Kim Connolly
Assistant Director for Programs and Conferences
225 Marshall Hall
connollykv@vmi.edu
(540) 464-7740
Mr. Derek Pinkham
Conference Project Manager, PMP, CMP
221 Marshall Hall
pinkhamdj@vmi.edu
(540) 464-7582
Cadet John Barker
VMI Cadet and Cyber Captain
---