Institute Honors Program
The Institute Honors Program enriches the academic experience of VMI's outstanding cadets through activities that encourage an affinity for intellectual inquiry and develop the capacity for sophisticated engagement of issues and problems, whether ethical, civic, or professional.
Honors Cadets have access to mini-grants for special projects and activities; support for senior project/thesis research through the VMI Center for Undergraduate Research; and events organized especially for them, including meetings with distinguished guests on Post and trips to sites of interest.
Honors Cadets are viewed as VMI's prime candidates for prestigious national awards such as the Marshall, Rhodes, Gates Cambridge, Truman, and Goldwater scholarships. Those who complete the program are certified as Distinguished Graduates with Institute Honors at commencement.
Admission / Continuance
Admission to the program is guaranteed for Institute Scholars and open by application to any other cadet with a cumulative GPA > 3.5. New cadets with exceptional high school records may apply for admission prior to matriculation. Continuation in the program requires maintenance of a cumulative GPA > 3.5 and engagement in program activities.
Requirements
HN 100 – Honors Forum – every semester
One HNS elective (3 credits): Honors Seminar in Science or Engineering
One HNL elective (3 credits): Honors Seminar in the Humanities or Social Sciences
Senior Honors Project/Thesis (6 credits)
Program admission decisions for incoming cadets are made after matriculation. Applicants will be contacted in August for interviews.
---
Honors Program in the News
Find out more about the cadet research projects and the Honors program in recent VMI news.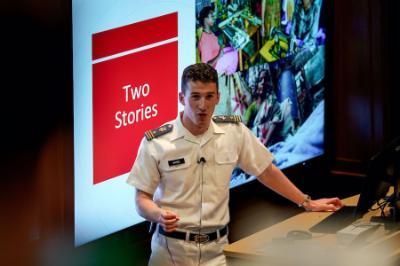 Microfinance as Tool to Reduce Global Poverty: VMI Cadet Presents During Honors Week
Brandon Marks '23, an international studies major at Virginia Military Institute, conducted a two-year-long research project on microfinance, and presented his findings in his senior thesis titled, "The Impact of Domestic Context on Microfinance Provision and Effectiveness" during Honors Week, held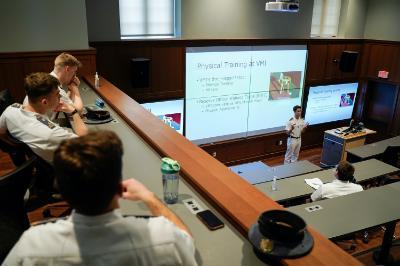 VMI Cadet Researches Physical Fitness Motivation
Philip Argauer '23 conducted a year-long research project on cadet motivation with physical fitness and presented his findings in his senior thesis titled, "Increased Physical Fitness With Volt" during Honors Week, held March 20-28.