Graduation
Graduation at the Virginia Military Institute is an exciting time for cadets, family, faculty, staff, and the VMI community to celebrate the achievements of 1st class cadets as they complete their journey at the Institute. With ceremonies held for Commissioning and Commencement, Graduation celebrates the achievements and excellence of all aspects of a cadetship at VMI.
---
May 2022 Events
Please note, any changes to this schedule will be posted to this page if and when they become necessary, and will also be noted on the VMI homepage.
ⓘ Inclement Weather Update: The Joint Commissioning and Commencement ceremonies have now been relocated indoors to Cameron Hall.
ⓘ Livestream Events: Video feeds will be added as they become available on the individual event pages linked below for: Cadet Change of Command, Memorial Parade, Institute Awards, Joint Commissioning, and Commencement.
ⓘ VMI Community: To receive important information concerning emergencies, weather, traffic, and parking, text the word "Keydet" to 772-95.
SCHEDULE
Friday, 13 May 2022
8:00 p.m. - Glee Club/Band Concert, Memorial Hall
Saturday, May 14, 2022
Sunday, May 15, 2022
Monday, May 16, 2022
8 a.m. - Post is open to parents and other visitors. No access to post prior to 8 a.m. will be permitted without a valid VMI identification card.
9:30 a.m. Cameron Hall open to the parents and guests.
11 a.m. - Commencement, Cameron Hall
VMI has implemented a clear bag policy for all major events which limits the size and types of bags that may be brought into Foster Stadium and Memorial Hall. Only clear tote bags that do not exceed 12" x 6" x 12", or one-gallon plastic freezer bags. Small handheld clutch purses no larger than 4.5" x 6.5" will be permitted. Cameras and smartphones are permitted to be carried into VMI facilities.
Dining in Crozet Hall will be open to families and guests with the following fees and hours:
BRC $9.00 - 7:00 to 9:00 a.m.
DRC $10.00 - 11:00 a.m. to 1:15 p.m.
SRC $11.00 - 5:00 to 8:00 p.m.
This information is subject to change, check this site frequently for updated information. All activities occur at VMI.
No tailgating is permitted on post from 13 to 16 May.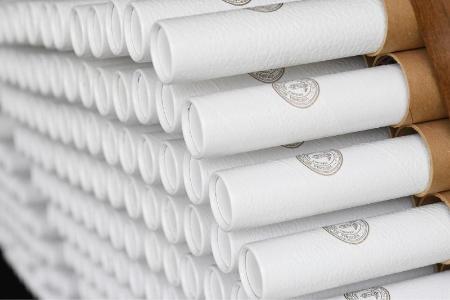 Commencement
Commencement is the culmination of four years of study at the Institute. The walk across the stage during this ceremony is a moment every graduate remembers.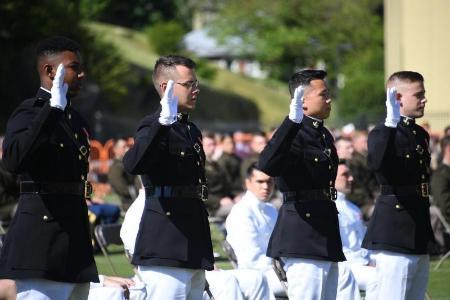 Commissioning
This ceremony, in which new officers take their commissioning oaths, marks the end of a four-year journey of education, training, and self-discovery and the beginning of a journey of military service.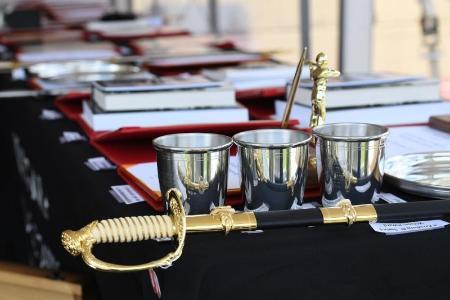 Institute Awards
Numerous awards recognizing the accomplishments of cadets are presented. Awards are presented by civic groups and the Institute, as well as the ROTC components.
Frequently Asked Questions
There are two companies VMI deals with when ordering announcements:
Tickets are not required for May Commissioning and Commencement. We do ask that families have no more than 10 guests.
Casual business attire is appropriate for all events.
Restrooms are located in Foster Stadium, Memorial Hall and Lejeune Hall (located at the end of Third Barracks.)
Graduation photos can be purchased from Candid Color Photography approximately ten days after graduation. Please visit their website at www.candidcolor.net. Please enter access code VMIG22.
You may also call 1-800-321-4256.