Army ROTC
VMI boasts the largest ROTC program in the country where each year approximately 800 cadets enroll in Army ROTC. Additionally, VMI commissions more 2nd Lieutenants than any other senior military college.
As part of ROTC programming, upper-class Army cadets serve as leaders in the battalion at all levels and organize major training events such as spring and fall Field Training Exercises. All cadets start at the lower ranks and work their way up to the top.
Institute Regulations require that all cadets complete four years of ROTC training in one of the three ROTC programs: Army, Navy/Marine, or Air Force. The VMI system is designed to prepare qualified cadets for a military commission upon graduation, but there is no requirement that cadets seek a commission.
VMI partners with other schools in the Lexington area for its Army ROTC program:
Mary Baldwin College
Southern Virginia University
Washington and Lee University
Army ROTC Scholarship Information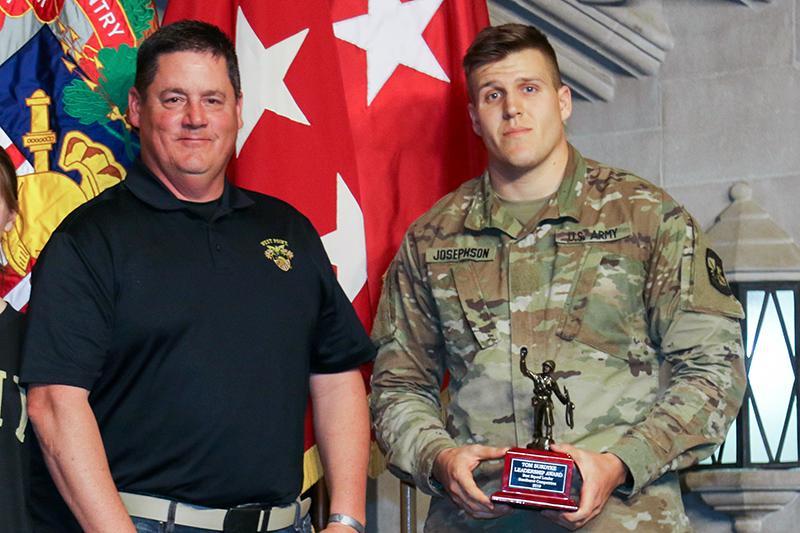 Cadet named Best Squad Leader at Sandhurst Competition
Adam Josephson '19 won the Tom Surdyke Award for best squad leader at the annual Sandhurst Military Skills Competition in April. VMI placed fourth out of those 49 teams in the functional fitness event and 27th overall at the competition.
Photo courtesy of U.S. Army ROTC
Army Secretary Speaks of Character at VMI
Secretary of the Army Mark Esper praised VMI's commitment to producing leaders of character.
Photo by Staff Sgt. Brandy Nicole Mejia