Among the Top Cadets in the Nation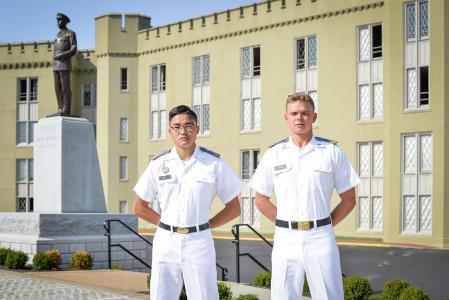 LEXINGTON, Va., Oct. 5, 2021—Cadets Michael Hoffmann '22 and Christopher Soo '22 have been recognized by Army ROTC Cadet Command as top cadets in the nation, with Hoffmann ranking No. 5 and Soo No. 7.
Soo and Hoffmann embody the finest attributes of a VMI cadet through their efforts and the example they set for others.
"Cadets Christopher Soo and Michael Hoffmann earned their positions in the top 10 above thousands of their peers because of their intense focus on excellence in everything they did," Cpt. David Sperry, professor of military science, explained. "They refused to settle for good enough or competent enough."
Army ROTC uses a variety of metrics, such as GPA, physical fitness, leadership evaluations, and technical competency, to rank the performance of cadets across the nation.
"Those rankings help in determining cadet component (Active Duty, US Army Reserves, National Guard) as well as their branch within the Army, such as infantry or aviation," Sperry stated.
Soo and Hoffmann have excelled in their Army ROTC training, and were recognized for their leadership.
"During peer evaluations, they were both recognized by their peers for the positive influence they projected on those around them," Sperry stated.
- VMI -