An Overseas Connection to the Corps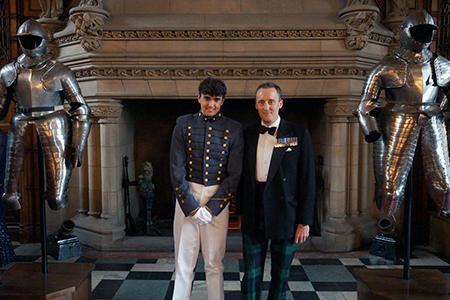 LEXINGTON, Va., July 8, 2022—John "Jack" Milenski '24 was able to spend the spring 2022 semester abroad thanks to an exchange agreement between VMI and the University of Salford. During his time in the U.K, Milenski trained with the Manchester University Officers' Training Corps (UOTC). This organization is equivalent to the ROTC program stateside and is part of the Royal Military Academy Sandhurst Group. One day, received a message from Lt. Col. John Bailey, commanding officer of the City of Edinburgh UOTC.
Lt. Col. Bailey wanted to meet Milenski because he has a close connection to VMI: Lt. Col. Bailey's mother is American and her father (Lt. Col. Bailey's grandfather) was a VMI graduate, class of 1940. His name is Robert Pemberton Smith (1919-2017). An interesting fact about Smith is that he was present during the filming of the movie "Brother Rat".
To facilitate a meeting, Lt. Col. Bailey invited Milenski to visit to Edinburgh, Scotland. The meeting took place in the Great Hall of Edinburgh Castle in Edinburgh, Scotland where Lt. Col. Bailey thought "it vital [that] Jack be given some Scottish hospitality." Lt. Col. Bailey was impressed with Milenski and remarked that Jack "served as the perfect ambassador for VMI" and that he was "so pleased to have made this link in memory of my grandfather."
Milenski was able to make some important contacts at this meeting, including the next Deputy Chief of the General Staff and Commander of the 51st Infantry Brigade.
Ms. Patricia Hardin
Assistant Director, International Programs
VIRGINIA MILITARY INSTITUTE