Anatomy Class Makes Virtual Dissection Possible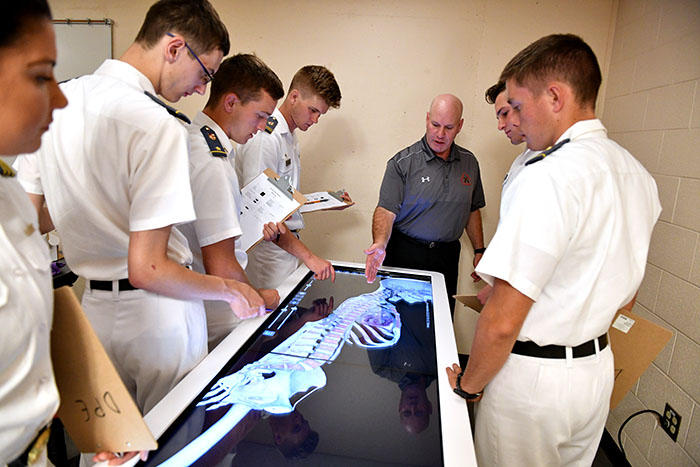 LEXINGTON, Va., Oct. 8, 2019—This fall, cadets are using a new tool that could only have been seen as science fiction when their parents were growing up.
The Anatomage Table, which is meant for the study of the human body and virtual dissection, is "kind of like a giant iPad," explained Darren Ostrander '20, one of the first cadets to use the table. Ostrander, along with five other cadets, is enrolled in Col. Mike Krackow's PE 274 class, human anatomy.
"It's a small class, which is nice for the first time," commented Krackow, adding that he hopes interest in the class will grow as time goes by. Already, he's heard from several cadets that they'd like to take the class, but it didn't fit in their schedules.
An anatomy class said Krackow, "complements the exercise science minor," which has been in existence at VMI for approximately five years now. Krackow explained that before the anatomy class was offered, the only class even somewhat like it on post was comparative morphology, which the biology department offers.
The Anatomage Table offers an ultra-high-resolution 3-D visualization system to create a vivid picture of the body's circulatory, nervous, and lymphatic systems, plus internal organs. It's pre-loaded with four cadavers of both genders and varying ethnicities. What's more, the individuals whose body images are used, all of whom donated their bodies to science, died of various diseases and the effects of their illnesses can be seen via virtual dissection.
"It's really helpful, being able to see all of that stuff," noted Ostrander. "It's just like dissecting an actual person without having to do that. The graphics on it are really amazing. You can see every little fine detail."
Ostrander isn't planning a medical career, but he's still glad he took the class. "[Anatomy] is something everyone should know a little bit about," he commented.
On a broader scale, Krackow wants to let faculty members across post know that the table is available for use by their classes. "It's open to anybody," he said. "I plan on using it in most of my classes."
Krackow also noted that the table fills a gap, as the Institute is too small to have a full-scale dissection lab, even for animals. "They're saying virtual reality is the way to go," he stated. "For the limited resources we have, this is excellent."
The table's cost of just under $80,000 was paid for using funds from the Gottwald Academic Excellence Endowment.
– By Mary Price