Defense and Diplomacy En Espanol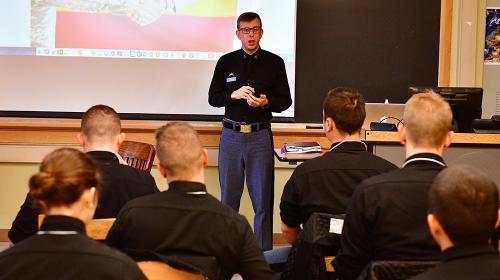 A new course in the Department of Modern Languages and Cultures is designed to equip Spanish language learners with the knowledge and skills they'll need to navigate the linguistic and cultural waters of a Spanish-speaking country.
Spanish for Diplomacy and Defense was developed by Col. Mary Ann Dellinger, professor of modern languages and cultures, with input from two recent alumnae, Kennedy Smith '18 and Rebecca Serrano '18, along with a current cadet, Ryan Uher '19.
The course is built around the concept of language for specific purposes, which is endorsed by the American Council for the Teaching of Foreign Languages (ACTFL) as a way of preparing students to use their language skills in the real world.
"That's the whole point of language for specific purposes: what are you going to do with the language that's real?" explained Dellinger.
The new course is designed for cadets who may spend all or part of their careers working in a Spanish-speaking country. That's especially true not only for cadets majoring in modern languages and cultures, but also international studies, history, and economics and business. Cadets in all of those departments are required to study a foreign language, Dellinger noted.
"A lot of [the cadets] are commissioning, and a lot of them go into diplomacy and the alphabet soup agencies," she commented.
Because of this, Spanish for Diplomacy and Defense, which is taught entirely in Spanish, focuses not so much on grammatical accuracy, although that is encouraged, but cultural competence. Much attention is paid, for example, to teaching cadets how to navigate hierarchies, which are very important to the culture of Latin America.
"What do you do, for example, when you're on a base? You have to have nationals. …. How do you deal with them? How do you approach them?" Dellinger stated.
When the new course was opened for enrollment, there was so much interest that the department wound up creating two sections of 12 cadets each. Dellinger teaches one, and Dr. Ivelise Faundez-Reitsma, an instructor in the department, teaches the other.
Smith, who graduated with the Class of 2018 and is now serving with the Army at Fort Meade, Maryland, said that the course is designed to have a "more hands-on and culturally immersive style." It's an approach she'd come to appreciate during her years at VMI, as she traveled abroad twice, once to eastern Europe and once to Nepal, during her cadetship.
When it comes to learning how to actually use a language, "just sitting in a classroom doesn't do it," she noted.
"The language community is starting to turn more and more to [language for specific purposes]," she continued. "The research backs what Col. Dellinger and I did … Most students prefer a more interactive course."
As a result of her work in helping to develop the course, Smith had the opportunity not only to present her research at VMI's Undergraduate Research Symposium, where she won first place, but she also traveled to Oklahoma City, Oklahoma, to present at the National Conference on Undergraduate Research. She and Dellinger also made a trip to Nashville, Tennessee, where they presented their research at ACTFL's national convention.
Uher, an international studies major who will commission into the Army, helped during the course development process and is now serving as a teaching assistant in the course.
It was Uher who encouraged Dellinger to adopt the PechaKucha, which is Japanese for "chit chat," in lieu of a written final exam. A PechaKucha is a video presentation in which there are 20 slides shown for 20 seconds each, and audio narration to accompany each slide.
Cadets enrolled in Spanish for Diplomacy and Defense must pick a scenario in which they are working at either the American embassy or a NATO base, and narrate their PechaKucha in Spanish as they address their fictional colleagues at either the embassy or base.
Uher had done a PechaKucha instead of a final exam in an Army ROTC class and thus was familiar with the concept.
"It's supposed to fit information into roughly five minutes," he commented.
Ryan In his role as teaching assistant, Uher has had to shift his thinking pattern from that of a student to that of a teacher.
"As a [teaching assistant], I have the benefit of knowing how everything is supposed to go," he commented. "I'm thinking in ways of, 'If I were taking this class, what would be the best way to assist someone with the questions they have or in completing the assignments?"
Uher also has hopes that as the semester progresses, helping others will advance his own Spanish language growth. "I'll be able to see what everyone is doing, so I get to pick up stuff from everyone in reviewing their assignments," he stated.
Spanish for Diplomacy and Defense is just the latest of the 14 courses Dellinger has developed at VMI, as she strives to provide the kinds of course offerings that cadets both need and want.
"I like to play into what the cadets like," she commented. "I think it's important to make [language learning] authentic, and that's what I've done."
- Mary Price, February 2019 Institute Report