Cadets Design Innovative Truck Bed Cover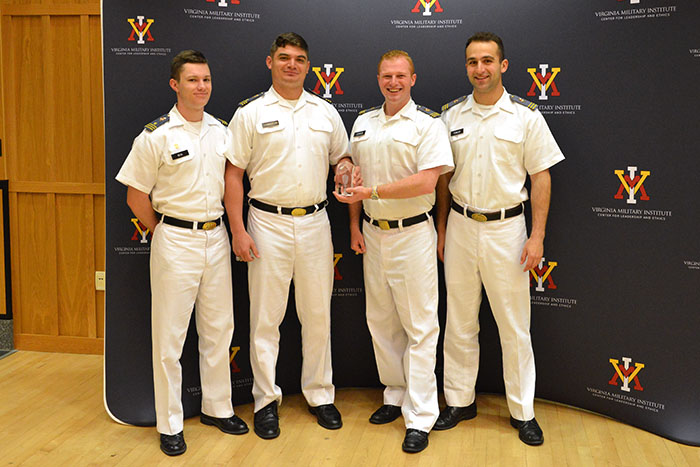 In a rag to riches-type story, a team of VMI cadets went into the Commonwealth Challenge with a prototype made from a desk drawer and came out with a third-place prize.
On April 12, an interdisciplinary team of cadets placed third in the challenge at the American Innovators Cup Competition, held in conjunction with the TomTom Summit and Festival in Charlottesville, Virginia.
The Commonwealth Challenge, which no one from VMI had entered before, is a competition designed to challenge college students from across Virginia to develop innovative solutions to problems facing the state and nation. To get to the competition, the VMI team was chosen as one of 42 semifinalists out of 600 applicants, and then, one of six finalists.
Of the teams in the top six, the other five were much larger state schools such as Virginia Tech, the University of Virginia, and the College of William & Mary. Many of those teams had funding in the six figures already. The VMI team's investment? Less than $50. Their handmade prototype was made from a repurposed desk drawer and aluminum scrap metal.
"People literally had presentations that cost more than our project did," said Jonathan Chamberlain '19, one of four cadets working on the project.
While serious about their project, the cadets had entered the competition mostly on a lark. "We never showed up expecting to really compete, much less be a threat to the other teams," said Bennett Johnson '19.
The business idea in question, Keydet Cap Aero, is the brainchild of mechanical engineering major James Seal '19. Joining Seal on the engineering side of the project was Chamberlain, while lending a business and finance perspective were economics and business majors Johnson and Patrick Fowler '19.
The idea for an aerodynamic, retractable truck bed cover came to Seal last summer after he'd signed up for a cross-disciplinary capstone project proposed by Dr. Dekuwmini Mornah, associate professor of economics and business. To fulfill the capstone requirements, cadets from the departments of mechanical engineering and economics and business would be required to come up with a viable business idea together.
"Over the summer, I was just thinking of ideas to work on coming into the fall," he explained. "I was doing a lot of driving, and I guess I'm kind of a nerd and an engineer because I was thinking about drag a lot."
As he drove, Seal noticed that many tractor-trailers now sport trailer tails, which increase fuel efficiency. Why not follow that idea and create a way to make pickup trucks more fuel efficient, he thought? A retractable cover could help truck owners save money on gas, while leaving the bed available for hauling when needed.
"This is the first time we've done a joint capstone [at VMI]," said Fowler. "It's interesting for us because in business classes, we develop business plans, but we don't get to develop any tangible products."
Working with engineers, Fowler has learned that when putting together a business plan, it's vital to take things such as the cost of materials and manufacturing time into account.
"That's something you can only learn through hands-on experience," Fowler noted.
Beginning last fall, the four cadets met regularly to develop the idea. Seal and Chamberlain used the mechanical engineering department's wind tunnel for testing, while Fowler and Johnson did market research and came up with a business plan.
One thing the cadets didn't do was build a full-scale prototype, although that's likely to happen down the road.
"You don't build what you want," Chamberlain explained. "You build what the market wants. We didn't want to go design something completely …. because we have to adapt to what the market actually wants. You have to stay flexible."
Because he's commissioning as a Naval aviator, Seal will be unavailable for business purposes for some time, but the other three cadets are determined to keep their idea alive long enough to test it in the real world.
"If it saves gas money, it's worth pursuing," said Chamberlain. "If it doesn't save gas money, it's not worth pursuing."
Mornah, long a proponent of entrepreneurial thinking, explained that his department requires its majors to develop a business plan as their capstone project, but because most economics and business majors don't have a lot of technical skills, their business ideas tend to revolve around what they already know.
"Therefore, working with engineering/STEM students would inspire better business plans from [economics and business]," said Mornah. And on an even deeper level, the cross-disciplinary capstone, he said, is meant to help cadets "develop an active entrepreneurial mindset, which is a market-oriented problem-solving approach to their capstone projects and jobs."
Fowler, for one, sees cross-disciplinary capstones as a way of harnessing the energies of many cadets for the greater good.
"There's a lot of smart engineering students, a lot of smart CIS students, who have ideas, and there's plenty of business students who know how to take it to the next level, but there's a disconnect there," he commented. "We're in different buildings … if there were some sort of program to bring the two sides together and funding for them, this could be a regular thing."
- Mary Price