The Extra Mile: Aviation Club
LEXINGTON, Va. Nov. 15, 2023 — When Carter Wasser '25 got in a plane to fly it for the first time, she was scared for her life. Climbing up in the sky, they reached the desired altitude, and her instructor took his hands off the controls. She grabbed on, let her fears settle, and ended up falling in love with flight.
"I found my passion of aviation at that moment," she said. "It was insane to be so high up. I was just around my hometown so I could see it from a different perspective. That's one of the things I love about aviation is you can go up and see the world from a different perspective and kind of just breathe for a little bit."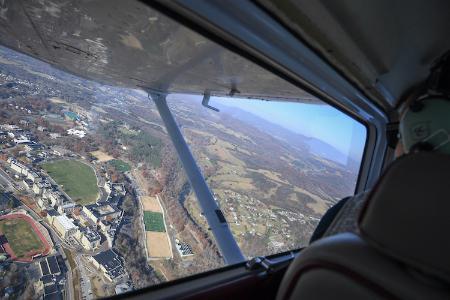 Wasser is part of Virginia Military Institute's Aviation Club. It's selective — only eight people can join at a time, because VMI foots the bill for participating cadets to get five hours of flight time towards their private pilot's license. The contract is through Blue Ridge Aviation, based out of Shenandoah Valley Regional Airport.
The club is open to 1st Class cadets, with the exception of some 2nd Class cadets. Wasser and Brayden Jones '24 were some of those exceptions — both joining as 2nd Class cadets. The enrollment process for the club is first-come, first-serve, with higher classmen getting first dibs.
Those who participate in the club have to give a good deal of their time up for it. It requires travel to the airport in Weyers Cave, then hours up in the sky. Jones said you have to have your own transportation to make the trips to clock your flight hours.
"People who are in a lot of different clubs or NCAA stuff, we kind of stay away from because we want to make sure people are getting the most hours as they can so that we can keep the club up and running since there's not a lot of people," said Jones, who is the cadet in charge of the club.
The club is also geared towards those who plan on commissioning and entering the aviation field. Wasser said the club is a good opportunity to test it out — aviation in the military is selective, so the club gives a good option to try it out.
To get your private pilot's license, you need a total of 140 flight hours. The club will provide five of them each year per cadet. Members have already racked up hours, though, ranging from 15 to 40 hours.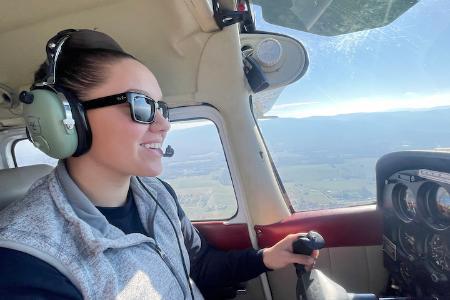 Club activities include understanding the basic flight controls of a Cessna 172, understanding flight pictures, also studying and working toward the written test portion of the private pilot's license, which consists of a random selection of 60 total questions from a pool of 1,000.
"It's all learning about the flight controls of the Cessna 172 and how that correlates to flying in the Shenandoah area because flying the mountains is not the easiest thing in the world," Wasser said.
Experience in the air
Wasser may have more flight time and plane experience than most members. She's been flying back home in King George, Virginia. Graduating high school during COVID-19, her parents gifted her flight lessons.
"I ended up falling in love with it. So, after my few flight lessons, I convinced my parents that I should continue, so I've been working on it for about two years now," she said. "Every summer I go home I take flying lessons and work towards that."
But Jones went up in a plane to fly it for the first time last year. He said the instructor was surprised by how Jones kept his cool.
"A lot of people kind of freak out when they get on the controls for the first time," he said, but his instructor pointed out that, despite the plan doing weird things, Jones was able to remain calm and under control. "Then I got down on the ground and I was like, 'OK, this is awesome. I've got to keep doing this.' And I knocked out my hours for the first semester in like two or three weeks."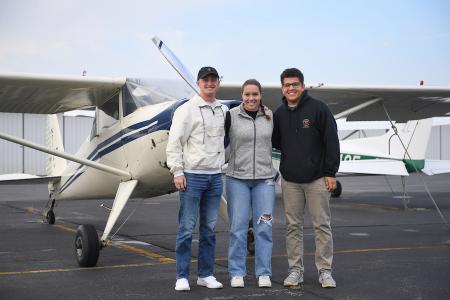 Both are commissioning after graduation — Jones into the Navy and Wasser into the Army, both with aviation paths. For Jones, after graduation, he must teach for two years while waiting to go to flight school in the Navy.
"I'm going to work towards getting my private pilot's license and then fly in the Navy. Whatever they give me., I'm just happy flying," he said.
His plan after the military is flying privately for either the Department of Defense or other companies that have private pilots flying smaller planes.
Wasser said she hopes after her time in the military she could come back to her hometown area near the Chesapeake Bay to work on conservation work. She wants to use her civil engineering degree and private pilot's license to work with farmers and apply it to pesticide runoff reduction into the Chesapeake Bay.
"Growing up on a farm I'd seen so many species die from runoff, pesticides, and herbicides," she said. "I could take the flying aspect and the being outside aspect and kind of go out to farmers, get their soil, take it back to my lab tested and then take my own airplane and apply it and know that I was doing the right thing for the Chesapeake Bay, because that's my home."
Laura Peters Shapiro and Olivia Polumbo
Photos by H. Lockwood McLaughlin
Communications & Marketing
VIRGINIA MILITARY INSTITUTE