Tournées Film Festival Brings French Cinema to Post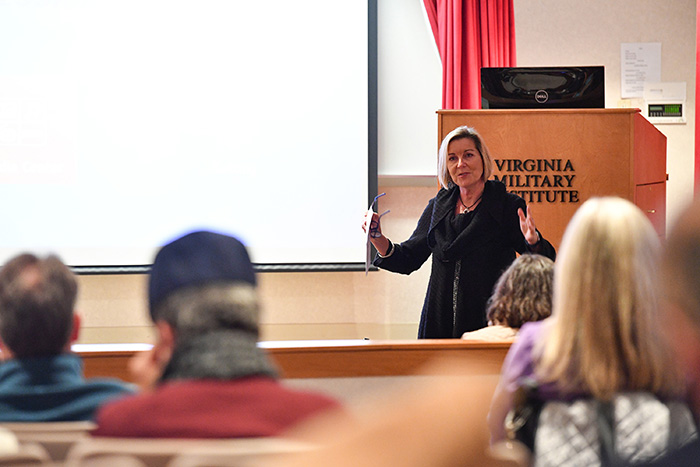 Founded in 1995, the Tournées Film Festival has a goal of bringing French cinema to American audiences—and this November, for the first time ever, the festival came to VMI, with six films being shown from Nov. 7-16.
The Tournées Festival is funded by the French Ministry of Culture through the Franco-American Cultural Exchange (FACE), explained Lt. Col. Jeff Kendrick, associate professor of modern languages and cultures.
It was Kendrick who first thought to bring the Tournées festival to VMI, after reading about the semaine internationale de la francophonie (international week of Francophonie, or IWF), an international celebration of the language and cultures of the French-speaking world.
"In an effort to raise awareness of our growing French program at VMI, and as a way to broaden our outreach on post, I thought the Tournées festival would be a great way to celebrate IWF," Kendrick commented.
In the spring, he applied for a grant to cover the cost of screening the films. As part of the process, applicants review a list of several dozen films and are asked to choose five recently released films and one "classic" film that they would show if their application to host the Tournées festival is approved.
The application process is quite competitive. "They look at things like how the films fit with your college or university," explained Kendrick. "They look at what access people in your region have to French cinema. They want to bring in something that people don't normally get to see."
This year, only two Virginia schools were selected to host the Tournées festival—VMI and Christopher Newport University.
Shown at VMI were Le Retour du Héros (Return of the Hero), La Douleur (Memoir of War), Le Corbeau (The Raven), Une Jeunesse Allemande (A German Youth), Tazzeka, and Madame Hyde (Mrs. Hyde). All were in French with English subtitles.
"There's a lot of different kinds of films but it's all built around the idea of conflict," said Kendrick. "Some of it is romantic conflict; some of it is actually political, national-level conflict; civil conflict within a society."
Tazzeka, he noted, is about the adjustment immigrants must make when moving to a new land—in this case, moving from Morocco to France. Madame Hyde, said Kendrick, "is a funny, kind of quirky movie loosely based on Dr. Jekyll and Mr. Hyde."
But the Tournées festival wasn't just a nonstop movie marathon. It was also an opportunity to learn more about French cinema from experts in the field. On Nov. 9 and Nov. 16, guest speakers came to post to talk about the films and help the audience explore them more deeply.
Speaking on Marguerite Duras, whose book La Douleur formed the basis for the movie of the same name, was Dr. Elizabeth Groff, assistant professor at Roanoke College. Dr. Florence Martin, professor of French at Goucher College, spoke on Tazzeka.
In the weeks leading up the festival, Kendrick made a big effort to get the word out, putting up posters around Lexington and spreading the word to other colleges and universities within an easy driving distance.
"This is the first time we've ever done something like this since I've been here," he commented. "If it's successful, there's no reason why we wouldn't try it again."
In addition to the funding from FACE, the Tournées festival's appearance at VMI was made possible by the Dean's Academic Speakers Fund, the Department of Modern Languages and Cultures, and the Office of International Programs.
- By Mary Price