When in Rome: Excursions for Engineering Summer Study Abroad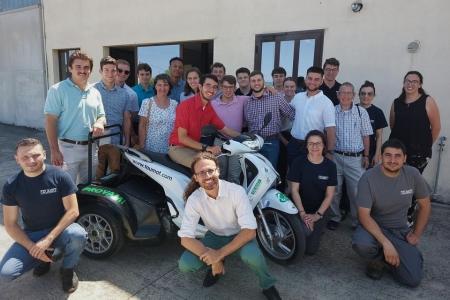 LEXINGTON, Va., July 11, 2023 — It's been a busy July already for cadets participating in the VMI Engineering Summer Study Abroad program in Rome. In addition to their coursework, cadets enjoy visits to cultural sites, local companies, and international organizations, extending their learning beyond the traditional classroom. The program was designed by Col. Jon-Michael Hardin, professor and head of the Department of Mechanical Engineering, with the assistance of Patricia Hardin, assistant director of the Office of Global Education.
One such excursion was to TAUMAT, a company which specializes in the manufacture of high precision mechanical components. TAUMAT is a family-owned business that was founded in 1987 in Atessa, Abruzzo, Italy. During the visit, cadets learned about the engineering and international business aspects of this small family-owned business and toured the company's manufacturing facility.
A special treat for cadets was learning about the company's prototype electric three-wheel vehicle, called the Duck, a vehicle that uses motorcycle parts augmented by an electrical and drive-train component box invented by TAUMAT. A highlight of the visit was cadets being allowed to take the Duck for a spin.

From left to right: Victoria Gurgos '25, mechanical engineering major, COL Hardin, and Cadet Ty Swaim '24, economics and business major also participating in the program, testing and posing with the Duck. Photos courtesy of Patricia Hardin.
Another trip for the group was to the NATO Defense College (NDC), the Alliance's premier academic institution. The idea of NDC originated from General Dwight D. Eisenhower, who identified the need for a new international institution with a unique educational mission, making it a perfect location for cadets from VMI, which has its own unique approach to education.
Cadets were able to familiarize themselves with the NDC's function and activities. The group was welcomed by U.S. Senior National Representative and Faculty Advisor, Colonel Shawn Leonard. Col. Leonard then gave a briefing about the NDC's history, structure, and activities, followed by an engaging Q&A session. The visit concluded with a tour around the college's premises.

From Left to Right: Cadets with Col. Shawn Leonard outside the college, posing outside by flags, and attending the NDC briefing delivered by Col. Leonard. Photos courtesy of the NATO Defense College (NDC).
Wrapping up the week, cadets visited the Leonardo da Vinci Museum in Rome as part of their ME 360X Global Engineering course.

From left to right: Hampton Wohlford '26 reading a descriptive plaque, group photo outside the museum, and Louis Wiltenmuth '25 testing out interactive model of a DaVinci invention. Photos courtesy of Patricia Hardin.
Learn more about the program in Rome and additional study abroad opportunities at VMI by visiting the Office of Global Education.
Ms. Patricia Hardin
Assistant Director, Office of Global Education
VIRGINIA MILITARY INSTITUTE