Promotions, Installation Mark Beginning of Academic Year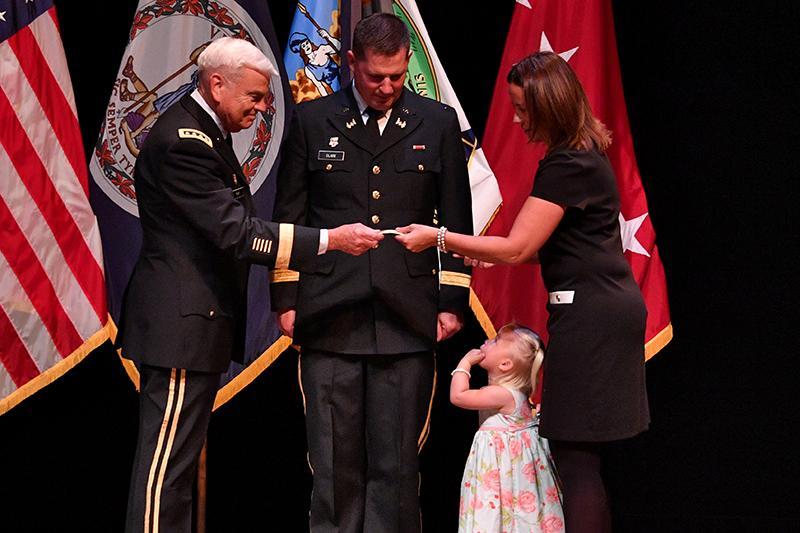 Brig. Gen. Dallas Clark '99 receives his rank insignia.—VMI Photo by Kelly Nye.
LEXINGTON, Va., Sept. 14, 2018—At the general faculty meeting kicking off new academic year, Gen. J.H. Binford Peay III '62, Institute superintendent, announced the promotions of two longtime faculty and staff members.
Promoted to brigadier general, effective Aug. 21, were Robert "Bob" Moreschi, former head of the Department of Economics and Business and now deputy superintendent for academics and dean of the faculty, and Dallas Clark '99, director of finance, administration, and support. Also announced was the installation of a new sergeant major.
Introducing Moreschi, who joined the economics and business faculty in 2002 and became department head in 2013, Peay commented, "We are thrilled with [his] selection as the 11th deputy superintendent for academics and dean of the faculty. … I think we're very fortunate to have just the right gentleman to lead our academic team in the years ahead."
During his 16 years in Lexington, Moreschi has undertaken in many leadership roles both on and off post. Not only has he served as the John and Jane Roberts Institute professor in free enterprise business, but he has also been faculty representative to the VMI Foundation board of trustees and adviser to the Cadet Investment Group.
His community activities include serving as a member of the audit and oversight committee of Kendal at Lexington and as treasurer of Lexington Presbyterian Church. He is a ruling elder of Lexington Presbyterian Church, was a board member of the United Way of Lexington/Rockbridge, and a long-time member of the Lexington Kiwanis Club.
In his remarks following the ceremonial pinning on of insignia, Moreschi stressed the necessity of teamwork to keep the Institute moving forward.
"I have the enviable task of leading an academic enterprise that has been transformed in the past 15 plus years into one of national and international renown," he commented. "Of course, our work is never done and we must strive to continuously improve. To do that, our energetic and creative faculty must work together, always keeping our focus on the Institute and our cadets."
Clark is one of five brothers, all of whom matriculated to the Institute from their Salt Lake City, Utah, home, and all of whom went on to graduate from VMI. After earning a degree in economics and business, Clark received a master's degree from Virginia Commonwealth University and shortly thereafter came to work for the VMI Alumni Association, where he oversaw new cadet recruiting, chapter promotions, and alumni placement.
In 2006, Clark became Institute planning officer. In that role, he was responsible for strategic planning, the post facilities master plan, and emergency preparedness. After a brief stint at Southern Virginia University as vice president and chief advancement officer, he returned to VMI in February 2017 in his current role, which includes oversight of a wide variety of post operations ranging from the treasurer's office to the VMI Museum System to the post hospital to government relations.
"All of us who have known [Clark] over these many years have such respect for his style, his maturity, his intelligence, and always, [his] approach to teamwork," Peay commented. "We're in good hands with this officer leading a very large, important, and sophisticated operation."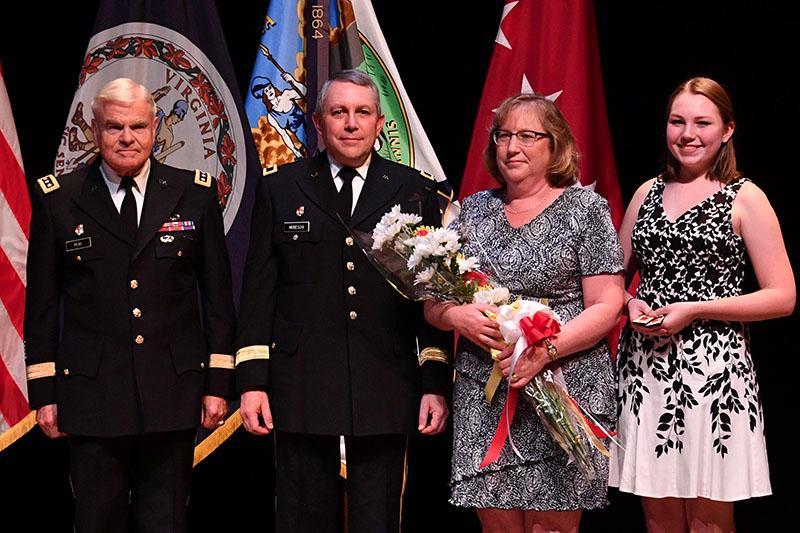 Brig. Gen. Bob Moreschi pauses with his family following his promotion.—VMI Photo by Kelly Nye.
For his part, Clark gave credit to the Institute. "I feel, in so many respects, like I am a son of the Institute, having spent the vast majority of my career here," he noted. "I am the [beneficiary] of the education that you as the faculty gave to me. … I'm very grateful for the education that I received here at the Institute."
The general faculty meeting was also the occasion of the assumption of responsibility ceremony and passing of the colors to William T. Sowers, sergeant major to the Institute and the Corps of Cadets. Sowers, a 30-year veteran of the Marine Corps who retired from that branch of the service in June, fills the position formerly occupied by John Neel.
Sowers' last posting before retirement was as 1st Marine Division sergeant major at Camp Pendleton, California. During his career, he served five combat tours: one in Operation Desert Shield/Desert Storm, one in Operation Iraqi Freedom, and three in Operation Enduring Freedom.
"In some ways, he is coming home," said Peay of Sowers, who was born in Martinsville, Virginia, and graduated from Patrick County High School.
"We could not be more honored, proud, and excited to have Sgt. Maj. Sowers serve VMI in this terribly important position as Institute sergeant major and sergeant major to the Corps of Cadets," said Peay.
Sowers likewise expressed appreciation for his new role and those he would be working alongside.
"I'm honored and privileged to be part of this prestigious Institute," he said. "I truly look forward to working with each and every one of you as we prepare and develop these young men and women into educated, physically fit, self-disciplined, honorable leaders for the future of our great nation."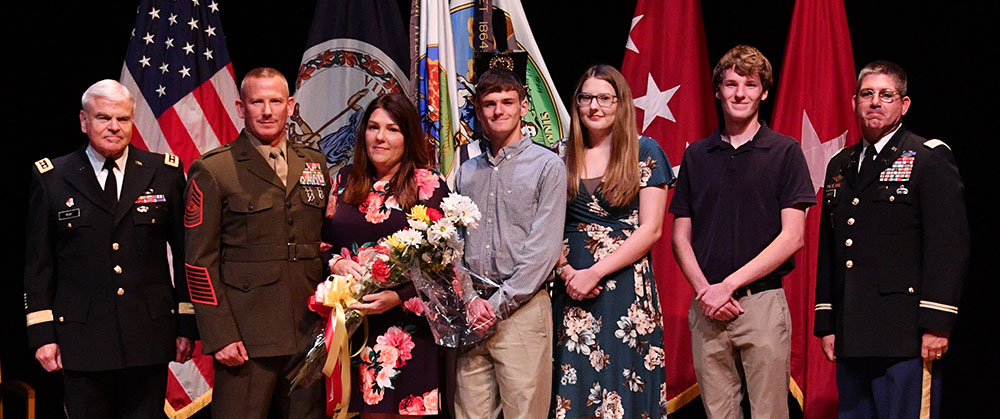 Family and colleagues join Sgt. Maj. William Sowers following the ceremony.
—VMI—