Community Theatre Presents Local History Play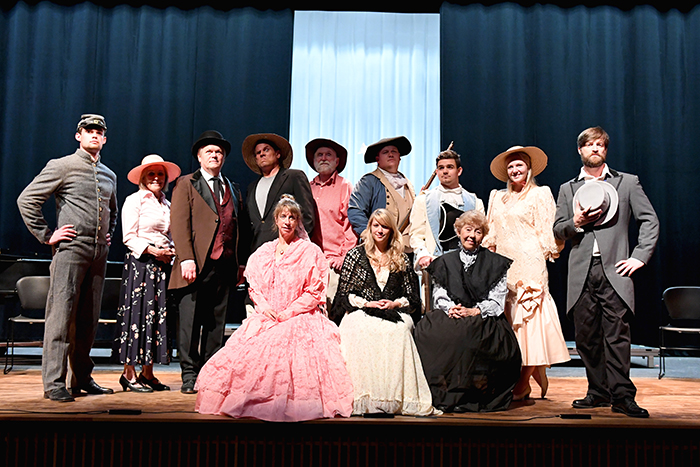 Members of the cast pause for the camera: (standing, from left) Cadet Sam Hudson, Donna Pagnam, Kevan Kavanaugh, Tom Oxendine, Don Kludy, Cameron Clark, Cadet Lukas Snear, Beth Diehl, Ethan Bedell, (seated) Paula Brown, Mary Schriver, and Ginger McNeese. – VMI Photo by Kelly Nye.
LEXINGTON, Va., June 20, 2016 – The VMI Community Theatre will present Heroes, Hustlers, Schemers & Scamps: Curious Characters from Rockbridge County History June 22-24 at 7:30 p.m. and June 25 at 2 and 7:30 p.m. in Gillis Theater, Marshall Hall.

This play offers brief glimpses into the lives of 21 lesser-known characters who played roles in Rockbridge County history from the 1700s to 1974. Originally presented in 2011 as Rockbridge Anthology for the Rockbridge Historical Society, the play has been updated with a new title, some new characters, and additional American folk music.

Featured characters include Mary McDowell Greenlee, Independent Pioneer Woman; Magdalena Woods McDowell, Wealthy Frontier Widow; John Peter Salling, Western Explorer and Journal Keeper; Samuel Houston, Patriot and Minister; "Jockey" John Robinson, Horse-Trader and Distiller; Mary Moore, Frontier Survivor; John Jordan and William Weaver, Men of Iron; Cyrus McCormick, Inventor of the Reaper; Sally McDowell Thomas, a Divorced Woman; Jacquelin Beverly Stanard, New Market Cadet; Margaret Junkin Preston, Poetess of the South; Hannah Davidson, Civil War Mother; Lilla Pendleton, a "Modern" Young Lady; Reverend and Mrs. Benjamin Moomaw, Town Builders; Charles M. Figgat, Bank Robber; Spotswood Styles, African-American Poet; Sally Bruce Dickinson, Irish Creek School Teacher; Miss Annie Jo White, Lexington Socialite; and Mel Greenberg, Modern Con-Man.

VMI Community Theatre Director Joellen K. Bland has adapted the play from local histories by Oren Frederick Morton and Henry Boley and the recently published Remarkable Rockbridge by Charles A. Bodie. Some material was also taken from the Proceedings of the Rockbridge Historical Society from 1949 to 2012. The play features sketches of the characters and encourages further investigation into their lives.

The cast includes performers from VMI and the local community, including Ethan Bedell, Michael Brickler, Paula Brown, Cameron Clark, Helen Cox, Beth Diehl, Brigid and Kiersten Donahue, Megan Gray, Sam Hudson, Kevan Kavanaugh, Don Kludy, Ginger McNeese, Tom Oxendine, Jack Page, Donna Pagnam, Shay Peters, Mary Schriver, Lukas Snear, and Virginia Villani.

Admission is $10 for adults, $5 for non-VMI students and senior citizens age 65 and older, and free for cadets and children age 6 and under. Payment is by cash or check only. Reservations are not necessary.

The VMI Community Theatre was established in 2011 as an all-volunteer, not-for-profit group that welcomes all interested performers and crew in the Lexington-Rockbridge area. It is based at VMI and produces a summer and a December holiday show each year.

For additional information: 540-464-7389 or blandjk@vmi.edu.

-VMI-