506 Matriculate in Class of 2020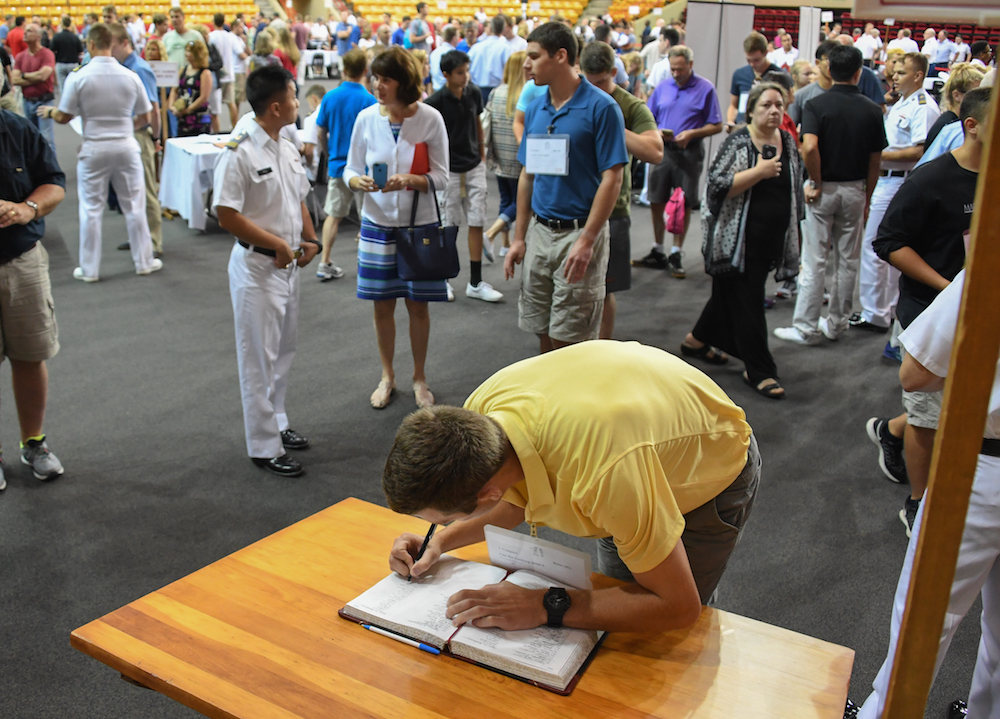 A new cadet signs the Matriculation Book during registration in Cameron Hall. – VMI Photo by H. Lockwood McLaughlin.
LEXINGTON, Va., Aug. 20, 2016 – More than 500 new cadets matriculated with the Virginia Military Institute Class of 2020 this morning.
At 506 cadets, the class is the third largest entering class and a little bigger than expected, said Col. Vern Beitzel, director of admissions, because of the high percentage of those accepted who decided to enter VMI.
The class includes 60 women and 95 recruited NCAA athletes. Fifty-eight percent are from Virginia and 42 percent from out of state, including four foreign countries. Sixty percent are majoring in math, science, or engineering, and 40 percent in the liberal arts.
Beitzel noted that this is a strong class, in terms of both academics and extracurricular activities.
Lt. Col. Neil Whitmore, associate director of admissions, said this year's pool of applicants was especially strong. "We did not accept any from the wait list," he said, adding that many who were not accepted are already following procedures to reapply next year.
Matriculation opened early this morning, with cadets reporting to Cameron Hall for registration and to sign the Matriculation Book, stowing their belongings in their barracks rooms, and visiting the Matriculation Fair in Crozet Hall, where they had the opportunity to meet representatives from VMI and community organizations and businesses.
The new cadets will form up in their companies for the first time at the close of an afternoon Welcome Ceremony in Cameron Hall, then march up to barracks to begin nine days of training before classes start Aug. 30.
-VMI-