Cormack, Cocke Halls Rededicated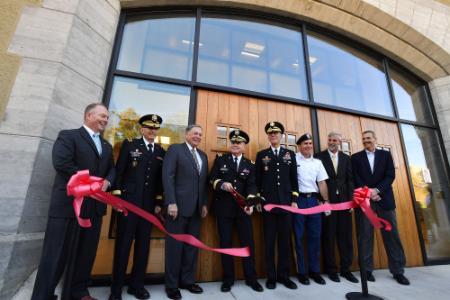 Gen. J.H. Binford Peay III '62 cuts the ribbon during the dedication of Cormack Hall. – VMI Photo by H. Lockwood McLaughlin.
LEXINGTON, Va., Nov. 11, 2016 – In Founders Day ceremonies earlier today, two buildings vital to the support of fitness and athletics at Virginia Military Institute, Cormack Hall and Cocke Hall, were rededicated after major renovations. In attendance was a crowd of approximately 50 people, many of them members of the VMI Board of Visitors, their spouses, and other friends of the Institute.
The renovation of both Cormack and Cocke halls was accomplished as part of the Corps Physical Training Facility project, a $122 million endeavor that also includes the new Indoor Training Facility at the corner of Main and Diamond streets, now nearing completion.
Cormack Hall, a $15 million project, is now home to the Department of Physical Education, as well as the exercise science minor and the NCAA wrestling team. Work began on its renovation in the summer of 2014 and was completed approximately one year later.
Gen. J.H. Binford Peay III '62, VMI superintendent, offered remarks before cutting a ceremonial ribbon at each building. "[Cormack Hall] demonstrates VMI's commitment to confidence building, wellness, athletic competition, toughness, and the historic ideal of a sound mind in a sound body," said Peay before cutting the ribbon at that building.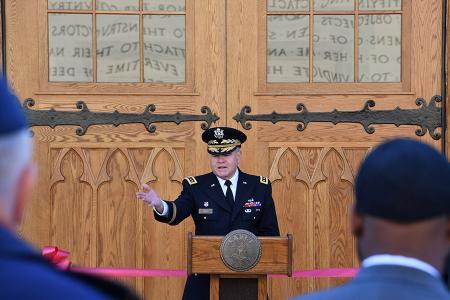 Gen. Peay addresses those gathered to the witness the rededication of Cocke Hall. – VMI Photo by H. Lockwood McLaughlin.
"This renovated and upgraded building retains its historic appearance and improves the main entrance access into the city of Lexington," he noted.
Speaking on the history of Cormack Hall, one of the most often repurposed buildings at VMI, was Col. Keith Gibson '77, executive director of the VMI Museum System. Gibson began by explaining that Cormack Hall was built in 1941 as an indoor riding arena at a cost of just over $115,000.
During the World War II years, Gibson noted, a man who would go on to much greater things wielded a shovel in what is now Cormack Hall to clean up horse manure. That man was Melvin Kaminsky, then enrolled in the U.S. Army's Specialized Training Program housed at VMI. Once his wartime service was over, Melvin Kaminsky changed his name to Mel Brooks and found great success as a comedian.
After the war, in 1948, the Army mechanized its cavalry, and the horses left VMI for good. The building then became a track and basketball arena referred to by cadets as "the Pit." Gibson noted, "A thousand gray-clad cadets screaming 'Welcome to the Pit!' did its part to assist the basketball team in winning several Southern Conference championships and securing a place in the NCAA finals of 1976 and 1977."
Once the basketball team moved to Cameron Hall in 1981, what was then called the VMI field house continued as a venue for track events. In 1984, the building was named the Cormack Field House in honor of longtime track coach Walter Cormack, whose teams had won 13 Southern Conference championships and 30 state championships during the 1950s and 1960s.
Because of many repurposings over the years, Gibson called Cormack Hall "our best example of adaptive reuse in historic architecture."
Those gathered for the ceremony toured Cormack Hall, whose interior geography reflects its divided purpose, with the southern half dedicated to the PE department. In addition to classrooms and offices for the PE staff, this half of the building features a very large room with gym mats and weight machines. Nearby is a state-of-the-art lab for VMI's exercise science minor, which is now in its third year.
"I've been in a lot of facilities, and this is about as nice as you'll find anywhere in the country," said Col. Jimmy Coale, head of the physical education department, as he led a group touring the building.
The other half of Cormack Hall is home to a spacious facility for NCAA wrestling and other mat sports and PE classes, such as jiu-jitsu and karate, complete with seating for 750 spectators.
At Cocke Hall, named for VMI's fourth superintendent, William H. Cocke, VMI Class of 1894, Peay again offered brief remarks before cutting the ribbon. He noted that it's especially appropriate that Cocke Hall, for many years VMI's main gymnasium, faces the parapet wall bearing a quote from VMI's founder, Col. J.T.L. Preston.
In writing for a local newspaper in 1837, arguing for the necessity of a school to replace what was then a state arsenal, "Preston began by describing VMI as 'A healthful and pleasant abode of a crowd of honorable youth,'" said Peay.
"Cocke Hall has contributed for decades to support of a healthful and pleasant abode and now its role is assured for many, many years to come," he added.
Work on the $23 million renovation of Cocke Hall, originally built in 1926, began in the summer of 2015 and was completed in the summer of 2016. Unlike Cormack Hall, whose interior has undergone a drastic change, Cocke Hall's interior retains much of its original flavor, complete with basketball courts and the elevated track familiar to generations of cadets. Cadet "hops" will continue to be held in Cocke Hall as they have for decades.
What's new are group fitness rooms on the lower levels for cadets, faculty, and staff, plus a spacious new weight room and strength training facilities. Faculty and staff now have their own locker rooms, separate from those for cadets. And, for the first time, the building has air conditioning.
Outside Cocke Hall, near Scott Shipp Hall, a new, triple-arched memorial invites visitors to reflect while visiting Memorial Garden. An inscription reads, "In remembrance of all of those who have served the Institute." The "Spirit of Youth," the white marble statue that graces the opposite end of Memorial Garden, was refurbished this summer to complement the renovations to Cocke Hall.
"This space is the spiritual heart of the Institute," said Gibson at the Cocke Hall rededication, "from the 1851 Barracks and Washington's statue towering over us, to Preston's inscription, Jackson Memorial Hall, and Scott Shipp Hall flanking us, and the great building rededicated today."
-Mary Price
-VMI-