CPTF Offers Myriad Training Opportunities for Corps, Track Team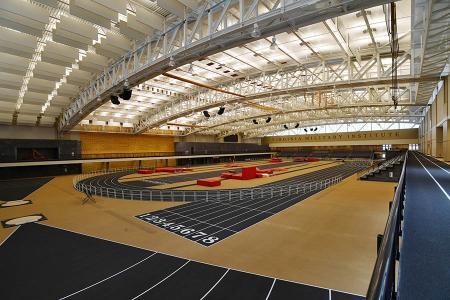 Among the features of the Corps Physical Training Facility are a 200-meter hydraulic track, overhead obstacles, a rock wall, a warmup track, and spectator seating. – VMI Photo by John Robertson IV.
LEXINGTON, Va., Dec. 9, 2016 -- After more than two years of construction, VMI's newest building, the indoor training facility, recently designated the Corps Physical Training Facility, is now poised to welcome cadets.
On Oct. 28, VMI's construction office received a certificate of occupancy for the vast new building, which has been under construction since the summer of 2014 at the corner of Main and Diamond streets. In mid-November, the track team began using the $84 million building, and that team's coaches moved into their offices there. The entire Corps will start using the facility sometime in 2017.
"VMI is still working out the overall operations of the building – how it's going to be accessed, who gets access to it, who gets to use it on a daily basis," explained Col. Keith Jarvis '82, deputy director of construction, as he led a recent tour of the structure.
Inside, the CPTF features two running tracks, both made of a rubberized surface that's safe for the spiked shoes frequently worn by track athletes. The 200-meter, six-lane lower track, which will be used for competitions, is hydraulically banked so it can be raised or lowered as desired. The upper track is designed for athletes to use for warm up or cool down.
Complementing the tracks are two six-meter sprint lanes, plus venues for field events, including two triple jump pits, two pole vault areas, and two throw areas. Surrounding the main track are seats for more than 1,400 spectators. To keep those spectators informed, there's a large screen connected to the finish line cameras, plus 10 loudspeakers.
"We have this fantastic audio system that's tied into the video screen," said Jarvis.
Soaring 70 feet into the air above the main track is a high ropes course. Though it will be used by the entire Corps, it will be especially useful for ROTC activities and for Rat Challenge events in inclement weather, noted Col. Bill Wanovich '87, commandant of the Corps of Cadets.
Also of interest is the 34-foot rock climbing wall, which has eight climbing lanes. The wall features handholds and footholds that can be altered to make climbing harder or easier, depending on the skills of the climber. A cargo net hanging near the wall provides an additional venue for cadets who want to test their climbing skills, and an obstacle course set up throughout the building is another source of physical challenge.
Nearby is the "cardio balcony" with stationary bicycles and elliptical trainers, plus a large, L-shaped weight room.
The entire building, Wanovich commented, is really all about options. "You can run in there. You can work out. There's ropes, obstacles, climbing walls. … There's so many things that the Corps can do."
Wanovich added that the building will provide a venue for physical training, especially during the winter months when the weather gets "pretty brutal." Instead of canceling training or pursuing it in unsuitable weather outdoors, he said, "people can go in there and use all of that great space."
Downstairs, the CPTF is all about athlete support. Spacious locker rooms, with lockers built to NCAA specifications, are available for both male and female athletes. There's also a cold plunge pool with the water kept at a chilly 50 degrees Fahrenheit, and a zero-gravity treadmill which can be used by athletes to stay in shape while recuperating from injury.
Attached to the lower level is a 126-space parking garage – the first one ever on post. Jarvis noted that while the parking garage will be limited to faculty and staff access on weekdays, it will provide a critically needed source of additional parking for football game days and other events.
Less visible are a number of features designed to mitigate the building's environmental impact, among them underground cisterns that collect rainwater from the roof. This water is used to irrigate the plantings around the building, flush toilets, and rehydrate the mechanical system to make up for water lost to evaporation.
"We're storing and using the rain water when we need it, so we're not dumping the rainwater into the storm water system," said Jarvis.
Below the building, a small stream, Town Branch, still flows as it always has, but it is now diverted by a wide culvert which should alleviate flooding problems that once plagued the area. Above the building, a section of the roof has been set aside as a "green roof," with plantings of herbs and grasses that will absorb and utilize rain water.
Efforts to be environmentally sensitive continue inside the building, with a light-harvesting system that reduces interior lighting costs and an innovative HVAC system that reduces costs to cool the building. This passive downdraft system makes use of convection so that cooler air falls and then as it warms up, it comes up through the louvers on the roof and escapes.
As a result of all of these efforts, the building is on track to obtain Leadership in Energy and Environmental Design Gold certification. "The state mandates silver LEED," said Jarvis. "We're one level above that at gold. We feel pretty good about that."
-Mary Price
-VMI-