Know What to Do and Do It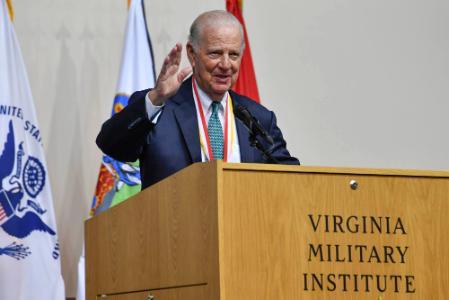 LEXINGTON, Va., Nov. 2, 2016 – Former White House Chief of Staff James A. Baker III defined and illustrated the meaning of leadership in a talk this morning in Virginia Military Institute's Cameron Hall. Having just received VMI's Harry F. Byrd Jr. '35 Public Service Award, Baker made his point: "Leadership, I believe, is nothing more than knowing what to do and then doing it."
The talk was the keynote address for VMI's seventh annual Leadership and Ethics Conference, "Strategic Leadership in Times of Global Transition: Past, Present, and Future."
"No one better understands how to apply strategic leadership in volatile, uncertain, complex, and ambiguous geostrategic environments than our distinguished guest," said Gen. J.H. Binford Peay III '62, VMI superintendent, in presenting the award.
Addressing the VMI Corps of Cadets, nearly 150 conference participants, and members of the community, Baker said the challenges the next president will face are "truly daunting," and noted that how well America leads in the coming years will determine "the history of the 21st century."
Naming historic leaders from Alexander Hamilton to George C. Marshall, a member of VMI's Class of 1901, as exemplars of the brand of leadership required, Baker directed the audience's attention to the careers of two historic figures who were also his own associates, President Ronald Reagan and President George H.W. Bush.
Reagan, under whom Baker served as both chief of staff and secretary of the treasury, navigated the collapse of the Soviet Union through a diplomacy "emphasizing plain talk over euphemism."
"The answer was to simply stay the course," said Baker. And, "as the Soviet Union embraced glasnost and perestroika in the late 1980s, the final element, to the dismay of Reagan's critics, was to support the reformers and defuse the tensions between the United States and the Soviet Union."
When the Berlin Wall went down, all questions about Reagan's leadership were finally and fully answered.
"The Cold War was over. The West had won. Why? Because President Reagan knew what to do and he did it," concluded Baker.
Baker, who led five presidential campaigns, for presidents Gerald Ford, Reagan, and Bush, and served as secretary of state and chief of staff for Bush, described how Bush further developed the new world order Reagan had helped create.
Bush, who did not believe in triumphalism, negotiated the "mother of all soft landings."
Pointing to the attainment of freedom throughout eastern Europe and Central Asia, the reunification of Germany, the peaceful breakup of the Soviet Union, and arms reduction agreements, Baker concluded, "The Cold War ended with a whimper and not with the bang that many people had feared, and the world became safe. Why? Because George Bush knew what to do, and he did it."
Baker did not shy away from commenting on current events during his talk and in a question-and-answer period with the audience. Unlike both major party candidates in this year's presidential election, Baker said he supports the proposed Trans-Pacific Partnership, a major international free trade agreement. He also suggested that the United States should respond forcefully to provocative moves from Russia.
The leadership conference continues with panel discussions this afternoon and a talk by Rand Corp. policy analyst Linda Robinson this evening. It will conclude tomorrow with additional panel discussions, a talk by H.B. Johnson Distinguished Speaker Lt. Gen. H.R. McMaster, and an ethical leadership exercise.
To view Baker's keynote address, visit www.vmi.edu/livestream.
– Maj. Sherri Tombarge
-VMI-