Linking the Classroom with the Chessie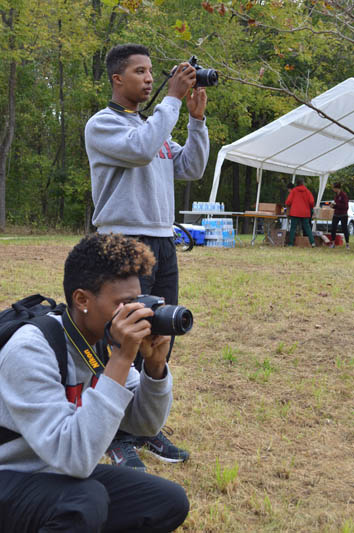 LEXINGTON, Va., Feb. 13, 2017 – An English major's life has traditionally been spent indoors, reading books and doing research in libraries, but last fall seven cadets majoring in English, rhetoric, and humanistic studies found themselves most decidedly outdoors as they undertook a field work project centered on the Chessie Trail, a 7.5-mile trail owned by VMI.
Under the guidance of Maj. Stephanie Hodde, assistant professor of English, rhetoric, and humanistic studies, the cadets chose a research and writing project that involved not only the trail itself, an abandoned railroad bed linking the cities of Buena Vista and Lexington, but also community partners interested in trail stewardship, among them the Friends of the Chessie Trail and the Lexington Tourism Bureau. Hodde christened the project, "A Trail for All Reasons."
Field work, a relatively new requirement for cadets majoring in English, rhetoric, and humanistic studies, is meant to help cadets put to use what they've learned in the classroom, while at the same time build relationships with members of the wider Rockbridge area community.
"[Field work] is an opportunity for [cadets] to apply what they've learned in their courses and learn more in the process as they apply their learning," said Col. Emily Miller, chair of the Department of English, Rhetoric, and Humanistic Studies.
"Field work in the humanities and arts is involving cultural and rhetorical conversations about what's going on in communities," explained Hodde. "We wanted to give [the cadets] public writing assignments that involved community concerns."
To that end, Kerisha Goode '18, a member of the Keydet track and field team, found herself redesigning the Friends of the Chessie Trail's website to make the site more appealing to runners.
"My idea was to get a runner's perspective on the Chessie Trail," said Goode. She'd already discovered that the Friends of the Chessie Trail's website emphasized hiking over other activities and begun to wonder if that shouldn't be changed, especially in light of the inaugural half marathon and 5K that the Friends held on the trail in mid-October.
"Why don't we expand on that?" Goode wondered. "People use the trail for more than just hiking."
With the group's permission, which was easily granted, Goode soon found herself in the role of webmaster – and with about 15 hours of time put in, the job was done.
Goode admitted that while she was pleased with the outcome of her project, just getting going was a struggle. When she first entered Hodde's class and discovered that the Chessie Trail would be the focus, it was all she could do to stifle a groan.
"I learned to work with a topic that I had no interest in at first," she acknowledged. "Nature wasn't my thing … Bugs, mud—I'm a city girl!"
Despite being a self-acknowledged city girl, Goode is glad she stuck out what seemed at first to be an unpleasant assignment.
"I really did have a good time," she said. "I loved working with the people I was working with."
Goode also found herself seeing the trail from the perspective of a cross-country runner. "[The field work course] broadened my perspective, not just on the nature thing but also about running in general," she stated. "I'm a runner, just not a trail runner."
Like Goode, Alex Hill '18 wasn't so sure about the Chessie Trail focus when she first started out. Environmentalism "isn't really my thing," she noted, but inspiration suddenly struck one day when she was in Lt. Col. Glenn Sullivan's psychology course on the suicidal mind. Sullivan was discussing ecotherapy, which uses nature as a source of stress relief, and at that point, Hill realized that she had a chance to change cadets' perceptions of the Chessie Trail.
"It's almost a unanimous idea here that people don't like the Chessie Trail," she said, adding that the dislike is rooted in having to march and run on the trail so much as 4th class cadets. Changing that perception would be difficult, Hill knew, but she was willing to give it a try.
After much thought, Hill got in touch with the cadet peer educators, a group of cadets specially trained by the Center for Cadet Counseling to assist their fellow cadets with stress-related concerns, and decided to create posters promoting the Chessie Trail as a place to relax. The posters will go up on the backs of the doors of toilet stalls around post in April and May—when the weather is warming up and, coincidentally, cadets' stress levels tend to be rising as well.
"I knew I wanted to focus on the VMI cadets," said Hill. "We're the most stressed-out people in this area."
As a result of her work, Hill found her own relationship with the trail undergoing an evolution. Before the field work class, "I hated the Chessie Trail just as much as everyone else," she stated. That changed, though, when, Hodde gave her cadets a simple assignment: walk, look, and listen on the trail.
The listening walk "was very cleansing to me," Hill explained.
"People's perceptions of the Chessie are distorted ... "I'm hoping that people will get out on the trail and see how beautiful it is."
For Hodde, changes like those that Goode and Hill experienced are proof that field work is making an impact on the cadets themselves.
"One of those most foundational things that needs to happen in a fieldwork course is that [the students] actually make a meaningful connection to their project," Hodde stated.
But the connections didn't stop there. "[The cadets] actually encouraged the institutions themselves," Hodde continued. "I don't know if the Friends of the Chessie Trail would have redone their website anytime soon without a push from Kerisha Goode … Having that energy from the class helped the boards of those organizations and the institutional stakeholders get excited."
Forging those connections between the Institute and the wider community is at the heart of the field work experience, Hodde believes –and it's not something that needs to be limited to any particular department.
"Field work is really a springboard for service learning [on post]," she stated. "I'm hoping that the course will help develop interdisciplinary conversations about community work in Rockbridge County."
The spring field work class is continuing the year-long focus on environmental stewardship, with some cadets helping to further an oral history project undertaken by Boxerwood Nature Center & Woodland Garden. Other cadets will be working with the Rockbridge Historical Society and the City of Lexington, among other organizations.
- Mary Price
-VMI-