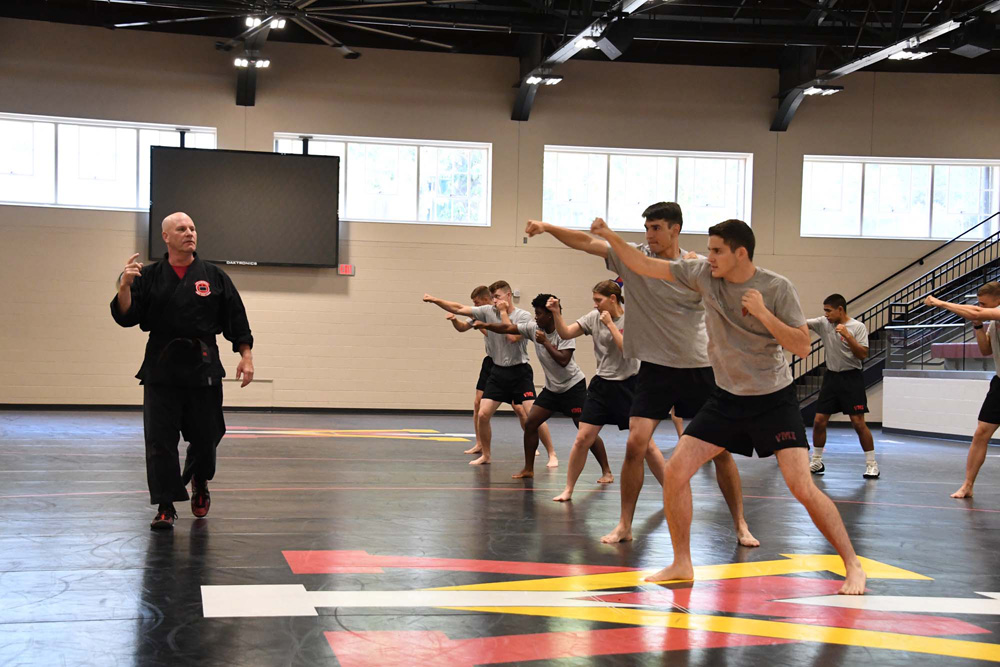 Col. Mike Krackow directs the cadets in his karate class as they practice their punches. – VMI Photo by H. Lockwood McLaughlin.
LEXINGTON, Va., Oct. 5, 2016 – Cadets at VMI must take seven physical education classes in order to graduate. They are required to take swimming and boxing, wellness and conditioning, but that leaves room for three electives, and the department has been working to expand their choices.
Karate is one of the latest additions.
"We were looking for new electives for the [physical education] department, and with my background in karate, we thought we could do an introduction to karate class," said Col. Michael "Mike" Krackow, a professor in the PE department and a second-degree black belt in karate.
The class is being offered for the third time this semester, and enrollment continues to grow. Krackow said that he opens the class to a maximum of 20 students, and this semester both sessions, offered in the recently refurbished Cormack Hall wrestling center, are nearly full.
"I think the karate class complements the mission of VMI and the physical education department," said Krackow. "It's a fun class to teach, and I think the cadets have a fun time with it. If you can learn something useful and fun at the same time, that's great."
Cadets in the karate class cannot earn belts, but they do learn the basics of self-defense. That, Krackow noted, is another important aspect of the course.
"We go over the basics, punches, kicks, strikes, a lot of defense," said Krackow, who teaches a number of physical education classes in addition to his duties as director of the exercise science minor.
"It's a lifetime activity, [something] people are going to do when they leave this place," Krackow added. "If you look at the mission of VMI, it's about lifelong learning."
A cadet teaching assistant, Evan Richey '17, joins Krackow for each class this semester. Richey took the class last year and asked if he could return this year. Krackow needed another set of eyes for a class so big, so he came up with a better idea.
"I told him, 'If you want to get a credit, I need a teaching assistant,'" said Krackow. "He's going to help me correct people, and he's going to be my demonstrator."
"I considered it an opportunity to perfect and rehearse the … moves," Richey said. "Col. Krackow will teach certain moves while I demonstrate, [and] afterwards I help correct any mistakes, answer … questions and provide … insight or advice."
Though Krackow acknowledges that the PE faculty has its hands full making the required classes available for the whole Corps, he said he would like the karate class to be the first of several new offerings as more resources become available.
"We've talked about it. We'd like to offer a ton more electives," he said. "I'd like to see more advanced classes and maybe an expansion of the exercise science minor."
– Chris Floyd
-VMI-