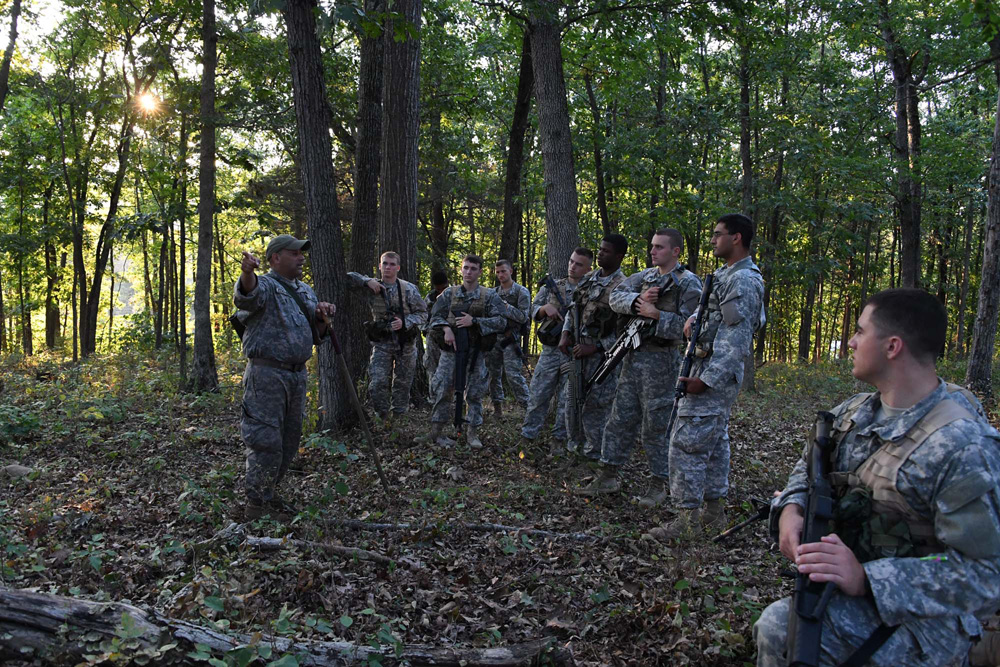 Sgt. 1st Class Carmelo Echevarria instructs cadets in patrol and ambush techniques at McKethan Park. – VMI Photo by H. Lockwood McLaughlin.
LEXINGTON, Va., Oct. 10, 2016 – This fall, cadets have an opportunity to try out patrol and ambush tactics taught by the commandant's staff, complementing training provided by the ROTC detachments.
The small unit tactics course, which was first offered in the fall of 2015, is taught by Sgt. 1st Class Carmelo Echevarria and Sgt. 1st Class Chris Bean, both of whom are members of the commandant's staff. Cadets of any class, whether or not they plan to commission, are welcome to sign up for the course.
"They're not all commissioning," said Bean. "Some of them are planning on enlisting in the military after graduation, … [but] they've all performed fairly well."
Echevarria said that he and Bean decided two years ago to offer courses in tactical and technical military skills as a way of complementing the course offerings of the individual ROTC units.
"The ROTC Cadet Command tells the ROTCs, 'You have to teach this,'" Bean noted. With that set curriculum, he explained, there simply isn't time to teach everything.
"Why don't I offer [the cadets] something more, something unit-related, that they will see in an actual unit?" Echevarria recalled thinking at the time. "I used to teach [small unit tactics] in the Army."
With that goal in mind, Echevarria and Bean decided to make patrol and ambush tactics one of their primary focus areas.
"An ambush patrol is the smallest combat operation that an Army infantry unit or a Marine infantry unit will ever do," Echevarria noted. Because of this, attendance is capped at 16 cadets per session. Ten cadets attended the training Sept. 17-18 at McKethan Park, and approximately 14 are signed up to attend a second training session, to be held Nov. 4-6 in the George Washington National Forest.
To make the experience even more intense, the ambush always takes place in the middle of the night – without the benefit of night-vision goggles.
"It gives realism to the training," said Echevarria. "The night atmosphere really gives them that extra edge. It's something totally different."
Bean and Echevarria also seek to intensify the leadership experience by having the cadets rotate through assignments, so that each cadet takes a turn both as patrol leader and in one of the subordinate leadership positions.
"All of us had a chance to be a key leader," explained Joshua Miller '19, who chose to attend the course because he plans to commission in the Army. Miller noted that his turn as leader came toward the end, so he'd had plenty of chances to see the others in action.
"I'd seen the whole thing over and over again several times, so I felt pretty confident and I had a lot of knowledge of what I was doing," he commented.
For Miller, experiencing a small unit in action was a rare learning experience.
"Usually in ROTC we work in a platoon size, which is around 30 to 40 people," he said. "Your job as a squad leader is a lot less than it would be in a small unit. … In a smaller unit, it's easier to pay attention to everyone's role. Even a regular rifleman in a small unit has a larger role than they do in a platoon where there's several more riflemen."
In addition to small unit tactics, Bean and Echevarria have been offering courses on topics including advanced land navigation, packing an assault pack, the military decision-making process, and military operations on urban terrain.
– Mary Price
-VMI-