Cadets, Faculty Lead Girls' Camp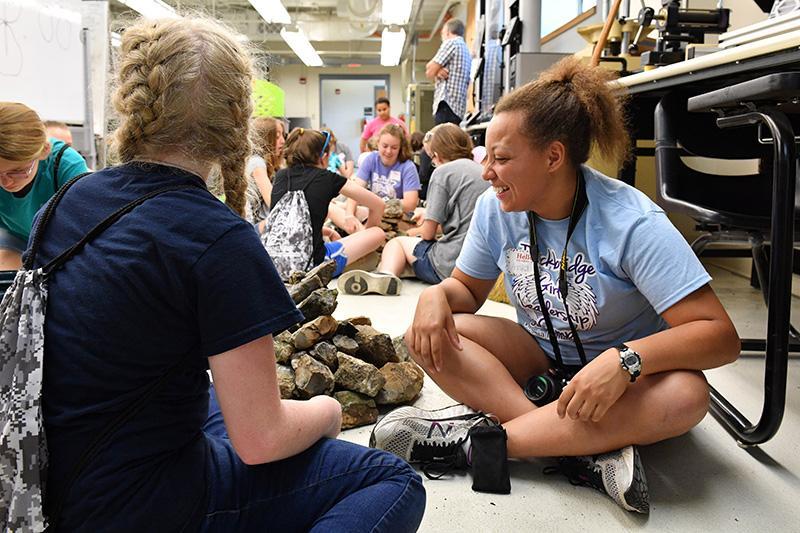 LEXINGTON, Va., July 6, 2018—At a new camp hosted by VMI cadets and faculty, girls have the usual camp experiences like making new friends and camping outdoors, but they also learn about academic opportunities available to them at the Rockbridge Girls Leadership Exchange Camp.
The camp, held in early June, is a summer academic project conducted by Annika Tice '19 and Maj. Stephanie Hodde, assistant professor of English, rhetoric and humanistic studies. About 14 girls attended the four-day camp, in which they took part in activities on post ranging from building rock sculptures to learning digital storytelling. Other adventures took them off post, including yoga and camping at Cave Mountain Lake.
Maj. Julie Brown, assistant professor of ERHS, and Col. Jay Sullivan, professor of mechanical engineering, developed a "Layers of Place" project where girls composed journals and sketches identifying their connections to a place and used engineering concepts to create the rock sculptures on North Post.
Col. Holly Richardson, professor of physical education, and Maj. Michelle Caruthers, deputy director of Physical Plant, worked with girls in meditation and yoga exercises and led a stream walk investigation at Cave Mountain Lake.
"I asked Annika to focus on particular qualities of experience in both campers' social interactions and learning narratives that reveal growth or potential—we still need to complete our analyses, but the quality of their work we observed already shows us that these kinds of summer exchanges reveal possibilities for giving rural girls access to conversations about where they are, and what they want to become," Hodde said.
For Elaine Price, 13, camping at Cave Mountain Lake was the best part of the leadership camp and she also enjoyed learning about central gravity through the rock sculptures.
Elaine Price's sister Ginny Price, 13, also attended the camp and noted she enjoyed making new friends with girls she had not met before.
"It was really cool building all the things and the rock stacking," Ginny Price said.
Faculty members who taught classes during the camp volunteered after hearing Tice introduce the idea for a girls' camp at a "brown bag seminar" in April. The seminar focused on Tice's idea for a program that encourages higher education among rural girls.
Tice combined her experience with female adolescent development and curriculum design from Maury River Middle School's Focus Learn Observe Watch (FLOW) program with Hodde's concept of a Rockbridge Girls Leadership Exchange for the camp.
The Girls Leadership Exchange initiative is funded in part by VCUR's Whetmore Fund, VMI's ERHS Department, and Maury River Middle School's FLOW Program.
A long-term goal of the program is to include VMI faculty in an interdisciplinary STEAM education for girls and expose them to multiple avenues for leadership and academic futures.
"We wanted to create an opportunity for girls that was outside of their school environment, but where they still used their academic skills to solve challenges and craft solutions," Hodde said.
Tice wanted to better understand how girls draw on and push beyond their rural identities and experiences to develop creative thinking practices, something she is familiar with after growing up in Java, Virginia—a community in Pittsylvania County.
Tice said her experience in VMI's ROTC program and as a leader in the Corps of Cadets gave her confidence in organizing an event like the girls' camp and working to manage those involved.
"Being able to conduct research at all is something I never thought I would do, let alone create a girls' program from its foundation. None of it would have been possible without the generosity, support, and time that the VMI community has spent and continues to spend in equipping me to pursue my passions," Tice said.
—Ashlie Walter
-VMI-