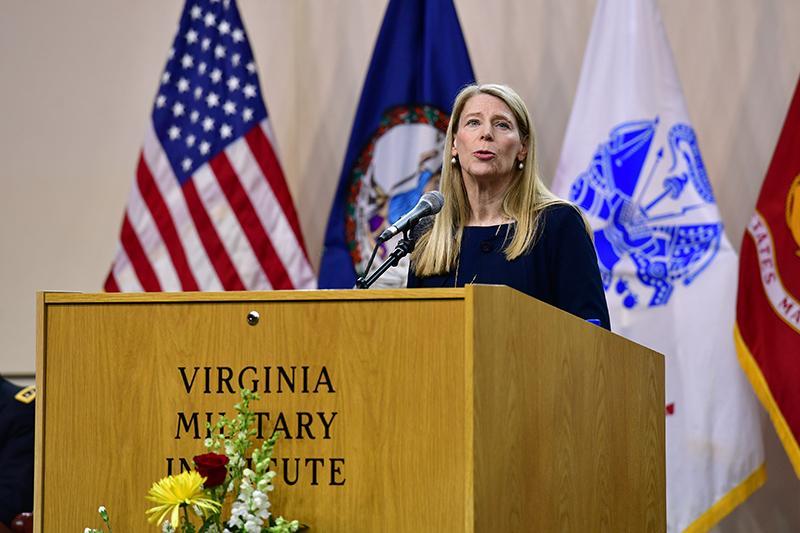 LEXINGTON, Va., March 6, 2019—In a speech given in VMI's Cameron Hall earlier today, Carolyn Miles, chief executive officer of Save the Children, encouraged the Corps of Cadets to see the world from another's perspective and follow in the footsteps of Jonathan Daniels '61—an Episcopal seminarian who gave his life to save a young black girl during a voter registration drive in Alabama in 1965.
Miles came to VMI to receive the Jonathan Myrick Daniels '61 Humanitarian Award, which was established by the VMI Board of Visitors in 1997 in honor of Daniels, one of only 15 individuals honored in the Chapel of Saints and Martyrs of Our Times in England's Canterbury Cathedral. The award recognizes individuals who have made significant personal sacrifices to protect or improve the lives of others.
Miles, who has traveled to 92 countries advocating for children's rights, is the first female, and only the fifth individual overall, to be honored with the Daniels Award. In addition to her speech in Cameron Hall, Miles' agenda on post included a meeting with Honors Program cadets in the morning, an office call with Gen. J.H. Binford Peay III '62, Institute superintendent, and taking the review of a parade alongside Peay.
On hand to see Miles receive the Daniels Award was Richard Morrisroe, a former Catholic priest who was steps behind Daniels on Aug. 20, 1965, when a part-time deputy sheriff fatally shot Daniels in Hayneville, Alabama. Morrisroe, who was seriously wounded in the incident, endured an 11-hour surgery and spent six months recovering. Over the years, Morrisroe has made several trips to Hayneville to honor the memory of Daniels, and he's also attended each of the Daniels Award presentations at VMI.
"VMI has chosen to be proud of Jonathan, and has chosen to see Jonathan as a continuing asset in a way that inspires students today to still know the name Jonathan, to have an arch …. on [post] in memory of Jonathan," said Morrisroe. "All of that is so important for today's students—it's a long time ago but they still have that memory of 1961."
Morrisroe noted that Daniels' sacrifice is particularly important today because racism is not a problem solved long ago, but rather one at the uncomfortable forefront of our national conversation today.
"[Racism] bears different faces today," said Morrisroe, who is still a practicing attorney at the age of 80. "Charlottesville [site of a Aug. 11, 2017 riot by white supremacists] isn't so very far away or so long ago and yet you have students here trying to provide an alternative to that, and hopefully that alternative will not simply create elite minority students or women students, but will create people in the image of Jonathan [Daniels] to reach out to others who don't have the advantages they have."
In her remarks to the Corps of Cadets and others, which can be viewed in full here, Miles stressed that the world needs more leaders like Daniels if the suffering of millions of children in war-torn countries such as Syria and Yemen is to be alleviated. Syria, she noted, has been at war for eight years—the entire lifetime, or more than the entire lifetime, of some of its youngest residents.
Miles commented that Save the Children began 100 years ago this year as a response to the plight of children orphaned by World War I—and today, the impact of war on children only continues to increase.
"Nearly one in five children around the world are living in conflict zones right now," she said. Miles added that today's wars tend to have a direct impact on children because they are being waged in urban areas, and schools and hospitals are frequent bomb targets.
Moral leadership of the kind practiced by Daniels is the only way this will change, Miles stated.
"He saw his fellow men and women being mistreated and did not hesitate to stand alongside them," she said of Daniels.
It's up to the next generation, exemplified by today's cadets, to make sure that legacy is continued, the 21-year veteran of Save the Children commented.
"Children today need leaders like the ones in this room," said Miles, a mother of three who holds a master's of business administration from the University of Virginia's Darden School of Business. "They need leaders who will stand up and say, "These are the things that are right for people."
"We need you to speak up, step out and declare that the kind of treatment that's happening in war to children is unacceptable. … I ask you to look at the world from a child's point of view."
Previous recipients of the Daniels Award include former President Jimmy Carter, who received the inaugural award in 2001; former U.S. Ambassador to the United Nations Andrew Young, honored in 2006; international humanitarian worker Paul Hebert '68, in 2011; and Georgia congressman and civil rights leader John Lewis in 2015.
-Mary Price
-VMI-