SURI Project Evaluates CPTF Green Roof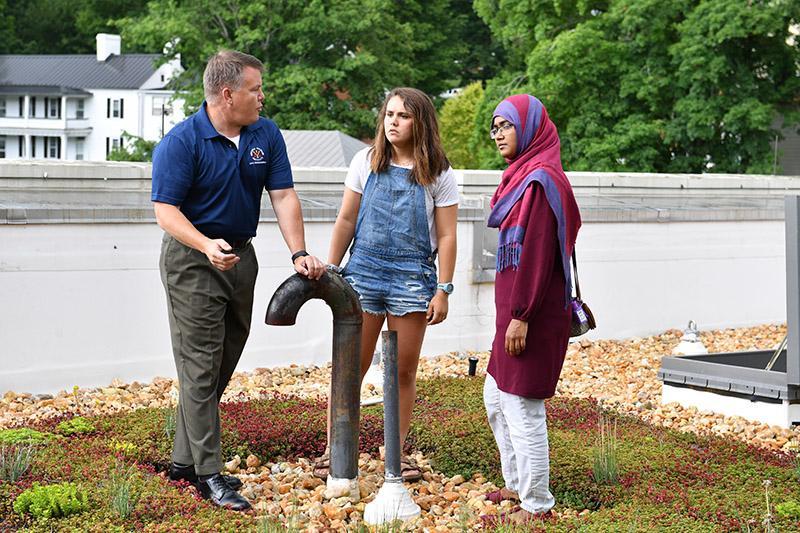 LEXINGTON, Va., July 3, 2019—VMI's newest building, the Corps Physical Training Facility, was designed with 21st century needs in mind, among them energy efficiency and environmental awareness.
Among the many "green" features of the 205,000-square-foot building is a green roof, which uses soil and plants to soak up rain water that would otherwise have to be diverted into a storm water detention pond. The roof is supposed to help with temperature control, too, and thus decrease heating and cooling costs.
But is it actually doing any of those things?
That's what Maria Vargas '22 is trying to find out through her Summer Undergraduate Research Institute (SURI) project, which involves an economic analysis of the CPTF green roof.
"Basically, the green roof is supposed to help improve energy efficiency because it's supposed to hold the cooler air in and keep the hotter air from escaping," said Vargas, a civil and environmental engineering major. "It's supposed to all around keep the temperature more even without affecting your heating and cooling costs."
To determine the Institute's actual energy costs for the CPTF versus a building with no green roof, Vargas is using Mallory Hall as her control, as that building has a traditional black EPDM (rubber) roof.
"We're going to use the difference in temperature in both buildings to figure out how much power is being used to determine if it's actually saving energy like it's supposed to be," Vargas noted.
She's spent the first few weeks of June poring over utility bills provided to her by Physical Plant staff, and getting information from the VMI Construction Office about the cost savings, and expected lifespan of the roof, that were projected when the green roof was installed at the CPTF in 2016.
An evaluation of storm water management, too, is part of Vargas's project. Had the green roof not been built, explained Maj. Paul Ackerman '93, assistant professor of civil and environmental engineering, the Institute would have needed larger retention ponds to hold storm water.
"There's a construction cost that the green roof is saving," said Ackerman, who brings an extensive knowledge of roofing to Vargas's project. Vargas's other faculty adviser, Dr. Tanjina Afrin, assistant professor of civil and environmental engineering, has a background in storm water management.
Ackerman also noted that while the green roof is supposed to pay for itself, no one knows just how many years that will take. "We don't know that magic number, so that's what Maria's working on," he commented.
Vargas said that if she can reach definitive conclusions, her work might help the Institute make wise decisions about future construction.
"In the long run it would help VMI because it would help them determine whether it's actually worth putting the extra money in initially for the green roof to see if it's providing the economic benefits … because they're going to build the new swimming facility too," she stated.
"If it's worth it, maybe they can consider putting a green roof on there."
Because she's already thinking about graduate school in environmental engineering, Vargas is hopeful that she and Afrin may present the results of her research at the American Society of Civil Engineers (ASCE) International Low Impact Development Conference, to be held in Bethesda, Maryland, next year.
- Mary Price
-VMI-