Army Special Forces Veteran Named VMI Commandant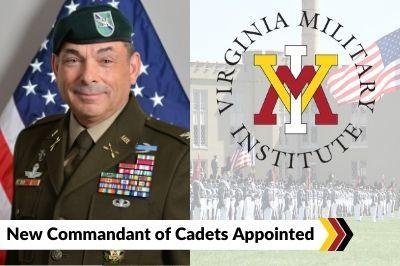 LEXINGTON, Va., June 21, 2021—Col. Adrian T. Bogart III '81, soon to retire from the U. S. Army Special Forces, has been appointed commandant of the Virginia Military Institute Corps of Cadets. Bogart assumes command from Col. William "Bill" Wanovich '87, who will retire June 30 after seven years as commandant.
Bogart spent 38 years on active duty, including 78 months in combat. He deployed as chief of operations, deputy C-9 (forward), with the Combined Forces Land Component Command (CFLCC) in Kuwait, and later took part in the initial planning effort for Operation Iraqi Freedom, deploying to Baghdad, Iraq, as part of CFLCC's early entry command post. He served a total of three tours in Operation Iraqi Freedom and Operation Enduring Freedom.
In addition to his service in Kuwait and Iraq, he served three tours of duty in Afghanistan, first deploying as chief of staff for the Combined Joint Special Operations Task Force—Afghanistan, and later as an Afghan-Pakistani Hand after having learned Dari, the most widely spoken language in Afghanistan, through the Defense Language Institute.
Bogart's decades of service also included several tours in the Pentagon and the Washington, D.C., area, including as a Special Forces staff officer on Army Staff; chief, resource management for the Consequence Management Program Integration Officer; chief of strategic plans and programs at the National Guard Bureau's Civil Support Office; and commander of the 32nd Civil Support Team (Provisional).
Most recently, Bogart completed a 21-month deployment to Afghanistan, contributing to the historic peace settlement between the United States and the Taliban that was signed Feb. 29, 2020. He then became chief of the Washington Field Office for the U.S. Southern Command, a position he held until his recent retirement.
"I am very thankful to the search committee, the senior leadership of the Institute and the superintendent for their trust and confidence in my future service to VMI," said Bogart in a statement.
"As I look ahead, the road for VMI is both promising and demanding," he stated. "It holds promise because we have the opportunity to responsibly advance the VMI experience, our traditions, and culture for all of VMI's cadets, faculty, staff, alumni, parents and friends."
A civil engineering major at VMI, Bogart held positions of increasing responsibility as a member of the cadre and served as executive officer of Company F his 1st Class year. Upon graduation, he commissioned into the Infantry and later transitioned into the Special Forces. In addition to his degree from VMI, Bogart earned a master's degree in diplomacy with a concentration in terrorism from Norwich University.
"Col. Bogart's impressive military experience, and his experience as a VMI cadet will be valuable each day in his new role," said Maj. Gen. Cedric T. Wins '85, VMI superintendent. "There is no doubt cadets will thrive under his leadership."
His awards include two Defense Superior Service Medals, with one for combat service; the Legion of Merit; five Bronze Stars; the Afghan Campaign Medal with two stars; Iraq Campaign Medal with six stars; Combat Infantrymen and Combat Action Badges, as well as the Special Forces tab; German, Italian and U.S. Airborne wings; and the Presidential Service and Army Staff Identification Badges.
A native of New York, Bogart is proficient in French, German, and Dari. He and his late wife, Susan, have three adult children, Sarah, Catherine, and 1st Lt. Adrian T. Bogart IV.
-VMI-