Construction Begins on VMI Aquatic Center
LEXINGTON, Va., Dec. 17, 2020—Just before Christmas, initial steps will begin for VMI's new aquatic center, officially known as the Corps Physical Training Facility Phase III (Aquatic Center). The center, which is expected to be completed in approximately 24 months, will be built alongside North Main Street, immediately adjacent and connected to the Corps Physical Training Facility. The center will also be connected to the Knights of Pythias building.
"It will attach to the new aquatic center via a glass walkway," said Col. Keith Jarvis '82, director of construction, of the Knights of Pythias building, also known as the American Legion building, which was moved in 2014 to make way for the Corps Physical Training Facility. "As part of the project, we'll renovate the Legion building, and it'll be utilized for conference and office space that supports the aquatic center."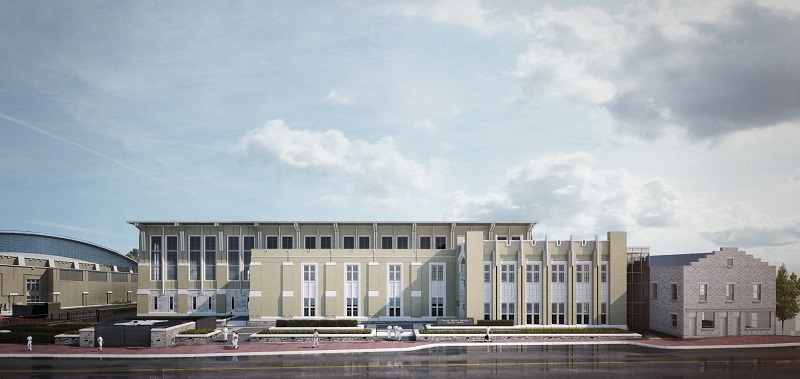 A rendering of the exterior of the center
The pool will be 50 meters long and 25 yards wide, a feature that allows swimmers to compete in meets that measure distances in meters and those that measure distances in yards. The pool will also allow for water polo, diving competitions, and for high water entry exercises, often done in years past in the Maury River. The existing pool in Clark King Hall, constructed in 1969, when the Corps of Cadets was much smaller, has remained in demand not only for swimming and diving practice, but also water polo, ROTC activities, and physical education classes.
State funding—about three-quarters of total cost of the $44.2 million facility—was included in the biennial budget proposed by Gov. Ralph Northam '81, and that funding remained in the budget as it passed through both houses of the General Assembly. The remainder of the overall cost of the project came from private donations.
When the aquatic center is completed, it will bring to an end the phased approach for athletic facility renovations and additions that began in 2014, which included renovations of Cormack and Cocke Halls and the building of the Corps Physical Training Facility, which opened in the fall of 2016, providing significant and enhanced indoor fitness training elements for cadets, as well as home to the Institute's NCAA track teams. The building provides a venue for ROTC and individual cadet physical training in inclement weather. Altogether, the three phases of the Corps Physical Training Facility cost $164 million.
During construction of the aquatic center, community members and visitors can expect short-term road closures on Main Street. Also, a temporary sidewalk will be provided, along with lighting to facilitate pedestrian access along Main Street.
-VMI-