Department of Defense $1.475 Million Grant Brings Cyber Defense Laboratory to VMI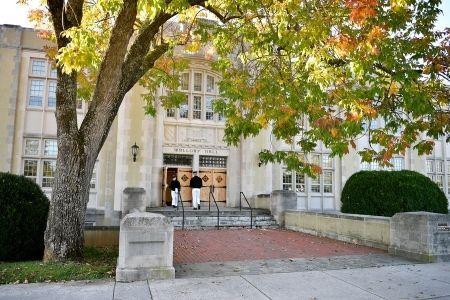 The Virginia Military Institute's Department of Computer and Information Sciences (CIS) took a major step toward a new initiative when Institute leaders signed an agreement for a grant award with the Department of Defense (DoD) to establish a cyber defense laboratory on post. The agreement, which will bring $1.475 million to VMI in the first year of funding, establishes VMI as a participant in the DoD Senior Military Colleges (SMC) Cyber Leadership Development Program.
"The main goal of this effort is the creation and execution of an integrated SMC DoD Cyber Institutes program composed of individual cyber institutes and centers at each of the six senior military colleges. The vision is for the six institutions to work jointly to meet the talent and workforce needs of the DoD Cyber Mission Force," said Brig. Gen. Robert Moreschi, deputy superintendent and dean of the faculty at VMI. In addition to VMI, the senior military colleges are the Citadel, Virginia Tech, the University of North Georgia, Norwich University, and Texas A&M.
The funds, included in the 2020 Consolidated Appropriations Act, are part of a $10 million Department of Defense (DOD) appropriation to the National Security Agency (NSA) for these institutes.
Sharon Hamilton, associate vice president of strategic partnerships at Norwich University and primary principal investigator for the grant, said the DOD allocated this money due to a critical shortage of qualified cyber professionals, both military and civilian, to join its ranks. More than 500,000 cyber jobs are open nationally, with more than 58,000 of those openings in Virginia, according to Cyber Seek.
"This initiative will complement and strengthen VMI's cybersecurity capacity, expand existing cybersecurity laboratory infrastructure, further innovation in cybersecurity education and research, and advance the multi-disciplinary cybersecurity minor, which was established in the fall of 2017," explained Col. Mohamed Eltoweissy, head of CIS and VMI's principal investigator.
To that end, VMI's grant from the DoD involves not only the CIS, but also the Department of Electrical and Computer Engineering, the Department of International Studies and Political Science, and the Center for Leadership and Ethics. Col. Eltoweissy indicated that other departments on post will be integral to the effort to cover the different facets of cybersecurity and better prepare cadets for DoD Cyber Mission Force work roles, including data scientists, reverse engineers, vulnerability researchers, and information research integrators in cyber operations.
As part of this grant, VMI will establish its cyber defense laboratory in the spring of 2021. The lab comprises two interrelated programs: the leadership-integrated competency development program and the immersive and experiential learning program. The vision is to provide premier cybersecurity leadership education, increasing the number of the next generation of leaders capable and ready to protect our nation from existing and emerging cybersecurity challenges.
A priority for the lab will be to boost the representation of underrepresented groups in the cybersecurity workforce. "We want to better respond to career requirements and skill sets," said Eltoweissy.
As the lab is created, so will be a new AI-enabled educational software and hardware platform that links professional careers to educational modules for immersive experiential learning, to be designed and built by VMI faculty, staff, and cadets with collaboration from the SMCs.
But VMI's cyber initiative isn't just about software and hardware, ransomware and malware. Not surprisingly, it's also about preparing the next generation of cyber leaders. "VMI is a premier leadership school," Eltoweissy commented. "We want to develop cyber leaders."
With this goal in mind, there will be unique leadership and learning opportunities for selected cadets. Plans call for selected rising juniors to be designated as "cyber captains" each academic year. These cadets will receive DoD Cyber Captains Scholarships. All of those selected will be required to enroll in the cybersecurity minor, complete an internship, actively participate in the Cyber Club, and receive a designated professional certification. These cadets will also serve as teaching and technical assistants to help faculty, staff, and cadets with cybersecurity issues.
Outreach to the community and attempts to diversify the future pool of cybersecurity workers will be critical components of the program as well. Summer camps for students in grades 8–12 will be offered, along with a residential camp for girls only.
The cyber defense laboratory will also allow VMI to foster deeper relationships with its fellow SMCs. Eltoweissy foresees much collaboration among the schools, including having guest speakers at one school broadcast to all of the others, and cybersecurity competitions with the other SMCs and service academies. Joint experiments and projects in education and research are also among the possibilities.
"We hope that the whole will be greater than the sum of the individual institutions," said Eltoweissy. "We think this is a first step towards more collaboration among the SMCs." This coincides with Hamilton's statement that the goal for all six senior military colleges is to receive cyber institute funding for a second year so they can show their value and become a funded "program of record" with the DOD. Hamilton's vision also extends beyond the six SMCs. "The SMCs will prove that we can be a talent pipeline," Hamilton said. "And then we can reach out to other universities and help them become DOD cyber institutes."
- VMI -