Maj. Gen. Cedric Wins '85 to lead Virginia Military Institute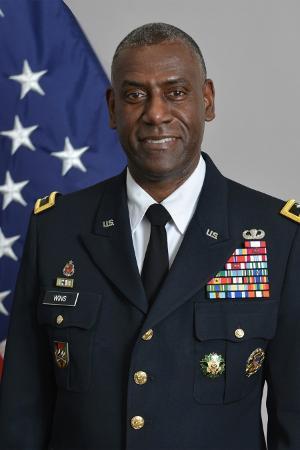 Lexington, Va., April 15, 2021—Maj. Gen. Cedric T. Wins will serve as the Virginia Military Institute's 15th superintendent according to a unanimous vote today by the Institute's Board of Visitors. Maj. Gen. Wins, a 1985 graduate of VMI, has served as interim superintendent since Nov. 2020.
"Maj. Gen. Wins has distinguished himself as a leader whose dedication to the Institute's mission and to the Corps of Cadets has endeared him to many during his brief time as interim superintendent," said John William Boland '73, president of the VMI Board of Visitors. "VMI's mission, Honor Code, and regimental and class systems are vitally important to the future success of our institution. There's no question that Maj. Gen. Wins is the right person to preserve and advance VMI's unique system of education moving forward."
During his time as interim superintendent, Maj. Gen. Wins' priority has been to focus on the cadet experience. He has guided the Institute through the pandemic with a commitment to provide cadets with a VMI experience that is as normal as possible. This semester VMI has offered nearly 86% of classes through in-person or hybrid instruction and successfully conducted many key VMI experiences such as Ring Figure, breakout, Spring FTX, and athletic competitions. Additionally, deposits for Fall 2021 matriculants are running nearly 4% ahead of last year which was a record year for VMI.
Gene Scott '80, chair of VMI's Superintendent Search Committee and a member of the Board of Visitors, said that the committee left no stone unturned in their search for VMI's next superintendent.
"VMI is synonymous with leadership. So, when an opportunity to lead an organization like VMI opens up, there is no shortage of interest," Scott said. "Our candidate pool was very strong from the outset of the search. Maj. Gen. Wins distinguished himself as a frontrunner through his experience as a military leader and innovator. His ability to communicate a vision for the development of leaders of character and the future of the Institute set him apart from others."
Maj. Gen. Wins spent much of the first three months of his tenure as VMI's interim superintendent conducting an assessment of the culture, policies, and procedures currently in place. He spent countless hours meeting with and listening to cadets, faculty, staff, parents, and alumni to better understand their needs and concerns. He has identified five outcomes for the Institute moving forward:
Honor. The VMI Honor Code must continue to be a way of life for each and every cadet and alumnus.
Diversity and inclusion. VMI must ensure that every cadet, regardless of race, gender, religion, or nationality, feels a part of the VMI legacy.
The VMI brand. The outward face of VMI should be built around young leaders of character who exemplify honor, civility, and service above self.
Competing and winning. VMI cadets must compete to win in the classroom, on the drill field, and on the field of competition.
One VMI. VMI's strength is in its diversity of experiences, thought, abilities, and backgrounds. No single cadet's challenge is greater than another's. It is through the reliance on their fellow cadets that the Corps succeeds.

"Over the past six months, Maj. Gen. Wins has brought a fresh perspective and a new enthusiasm to the challenges that the Institute faces today. There's no question that the future of VMI is very bright with Maj. Gen. Wins at the helm," said Board of Visitors and Superintendent Search Committee member Lara Tyler Chambers '03.
Prior to assuming the role of interim superintendent, Maj. Gen. Wins spent 34 years as an officer in the U.S. Army. In his final command, Maj. Gen. Wins was the first Commanding General of the U.S. Army Combat Capabilities Development Command. During his 34 years of service, he also held many other leadership and staff assignments, including in Headquarters Department of the Army and the Joint Staff at the Pentagon. His awards include the Distinguished Service Medal (with One Oak Leaf Cluster), the Defense Superior Service Medal, the Legion of Merit (with One Oak Leaf Cluster), and the Bronze Star Medal. He holds two master's degrees, one in management from the Florida Institute of Technology and one in national security and strategic studies from the National War College.
During his time as a cadet at VMI, Wins was a standout basketball player who finished his basketball career as one of the top five scorers in school history. Over his four years at VMI, he helped lead the team from last place in the Southern conference to the Southern Conference finals during his first-class year. In 1985, he graduated with a Bachelor of Arts in economics and commissioned into the Army as a field artillery officer.
"If someone had told me a year ago that today I'd be the superintendent of my alma mater, I would have told them they were crazy," Wins said. "However, the interactions that I've had over the past six months with VMI's outstanding cadets and dedicated faculty have been some of the most rewarding interactions of my career. The fact of the matter is I believe in the honor, integrity, civility, and sacrifice that we instill in our cadets. I'm excited to once again be a part of that and am looking forward to leading this next chapter of the Institute's history."

- VMI -