TAPS – Lt. Col. Troy Marshall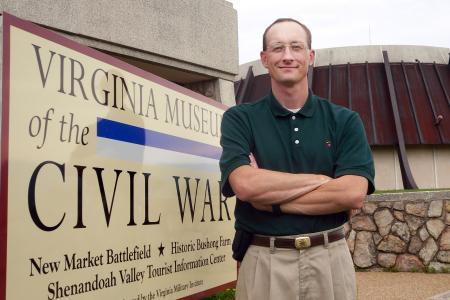 LEXINGTON, Va., June 28, 2021—The superintendent regrets to inform the VMI community of the death Lt. Col. Troy Marshall, who passed away in a tragic accident June 17, 2021, at the age of 54.
Marshall had been a member of the Coast Guard, and was with the New Market Battlefield State Park since 2001, with half of his time there serving as site director.
"Troy's admiration for VMI and his love of public history were reflected in his leadership of the Virginia Museum of the Civil War and Battlefield Park," said Col. Keith Gibson, director of the VMI Museum System. "This leadership extending over two decades will be deeply missed."
The museum was closed on June 18 in tribute to Marshall, and reopened the next day, as the staff know that's what he would have wanted.
A memorial service for Lt. Col. Troy Marshall will be held on Saturday, July 10, at Broadway Baptist Church at 2 p.m. The church is located at 166 Mason St., Broadway, Virginia. Memorial gifts may be made to Broadway Baptist Church, 166 Mason Street Broadway, Virginia 22815 or the Virginia Museum of the Civil War.