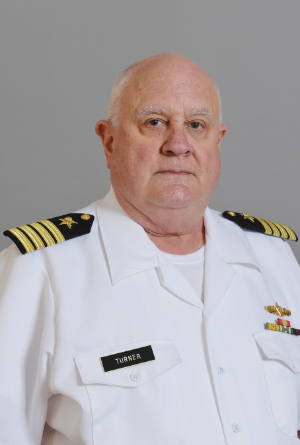 LEXINGTON, Va., April 28, 2021—The Superintendent regrets to inform the VMI community of the death of Capt. Blair Turner. He passed away on 26 April 2021 at home. He was 73. Blair committed more than 38 years to the Institute until his retirement in November 2020.
A graduate of St. Andrews College in North Carolina, Turner went on to commission from the U.S. Naval Officer Candidate School and served a tour of combat duty in Vietnam. He then earned master's and doctoral degrees at the University of Florida, with an emphasis on Latin America and the military, which included a student Fulbright grant to Argentina.
In 1982, Capt. Turner joined VMI's Department of History and Politics. He also taught statistics for the politics side of the department - a course which came to be known as "Turner's Revenge." He served as head of the Department of History from 1990 until 2004.
In 1989, he was awarded his second Fulbright, this time a Senior Teaching Award at universities in Montevideo, Uruguay, and Bahia Blanca, Argentina. Capt. Turner found great joy in fulfilling numerous personal requests to commission graduating cadets.
He won teaching awards in both 1989 and 2013.
Beginning as faculty advisor for the VMI Rugby Club, he also coached for both the men's and women's teams.
"Blair Turner was the life of the History Department," said Col Houston Johnson V, professor and current head of the Department of History. "His commitment to the VMI community during more than 38 years of service continues to inspire generations of cadets and faculty."
-VMI-