VMI to welcome Vice President Pence, Army Secretary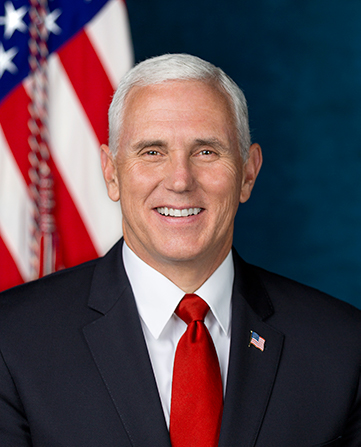 LEXINGTON, Va., Sep. 2, 2020—Virginia Military Institute is set to host a special guest speaker event featuring Vice President of the United States Mike Pence and Secretary of the Army Ryan McCarthy '96 on Thursday, Sept. 10, 2020. The event is tentatively planned for 2 p.m. in Cameron Hall.
"VMI is fortunate to be able to attract such prominent speakers to provide our Corps of Cadets an opportunity to learn from their leadership," said General J. H. Binford Peay, VMI superintendent. "Both Vice President Pence and, VMI's own, Secretary McCarthy have many experiences upon which to draw in imparting their wisdom and contributing to our mission of forming citizen soldiers. We are grateful for their willingness to visit with us."
Prior to becoming Vice President, Mike Pence earned a degree in law from Indiana University. After graduating, Vice President Pence practiced law, led the Indiana Policy Review Foundation, and began hosting The Mike Pence Show, a syndicated talk radio show and a weekly television public affairs program in Indiana. In 2000, he launched a successful bid for his local congressional seat, entering the United States House of Representatives at the age of 40. Pence was unanimously elected to serve as Chairman of the House Republican Study Committee and House Republican Conference Chairman before being elected governor of Indiana in 2012.
Secretary of the Army Ryan McCarthy graduated from Virginia Military Institute in 1996 with a degree in history. He commissioned into the Army and served in support of Operation Enduring Freedom with the 75th Ranger Regiment. He has served as an advisor to Secretary of Defense Robert Gates under Presidents Bush and Obama and has served as undersecretary of the Army. Prior to his confirmation as undersecretary, McCarthy worked for Lockheed Martin Corporation in sequential vice president roles responsible for the sustainment, customer solutions, and program integration of the F-35 Joint Strike Fighter program and the company's global security policy.
Due to space restrictions and guidelines on spacing, the September 10 event is closed to the public. Members of the media who wish to cover the event should contact Col. Bill Wyatt (wyattwj@vmi.edu) and Laura Schlapp, Director of Regional Media (laura.a.schlapp@ovp.eop.gov). Media credentials will be required for admittance. Those details and attendance logistics will be forthcoming.
UPDATE: This event will be available via livestream at http://www.whitehouse.gov/live beginning at 2 p.m., Thursday, September 10, 2020.
-VMI-