Braver Angels Organization Returns to VMI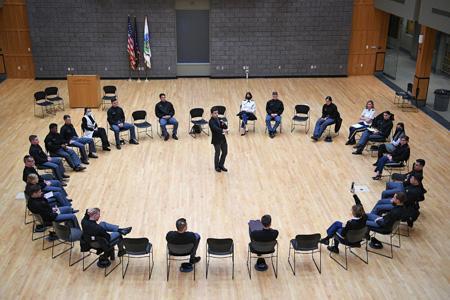 LEXINGTON, Va., March 23, 2022—Braver Angels, a national organization dedicated to depolarizing American discourse, visited VMI on Feb. 28 to facilitate another college debate. Inspired by the debate portion of VMI's Leadership and Ethics Conference this past fall, the Building BRIDGES service club invited Braver Angels back to post to facilitate a discussion that would address a controversial topic in a safe and open format. The Center for Leadership and Ethics co-sponsored the event.
The Building BRIDGES cadets-in-charge, Claire Lee '22 and Katie Lloyd '23, along with faculty advisors, Col. Valentina Dimitrova-Grajzl and Lt. Col. Sara Whipple, surveyed the Corps of Cadets on possible topics they would be interested in debating and would have a variety of opinions on. The choice was narrowed down to "Resolved: Women Should Be Assigned Combat Roles."
More than 20 cadets and several faculty and staff members participated in the evening event. Some of the cadets had participated in the debate during the Leadership and Ethics Conference and were eager to attend another one. The structure of the debate instructed them to listen to the entirety of someone's argument without interruption, and speakers had to address their comments to a debate chairman.
Feedback from the cadets afterward was overwhelmingly positive. Survey results indicated that cadets appreciate the ability to be honest and not hold back their opinions in a safe and respectful environment, and all were unanimous in wanting to do it again. "It was challenging but very rewarding," said Lloyd. "Especially in today's divisive climate across the country, it was a nice relief to have a civilized conversation that allows us to see things from different points of view. We're looking forward to hopefully working with our community to do this again later in the semester!"
The Building BRIDGES club is planning to hold at least one debate next year, and exploring a partnership with Washington and Lee University and Southern Virginia University for a joint discussion.
Maj. Michelle Ellwood
VMI Photo by H. Lockwood McLaughlin
Communications & Marketing
VIRGINIA MILITARY INSTITUTE