Cadets Travel to Israel and Win Debate Competition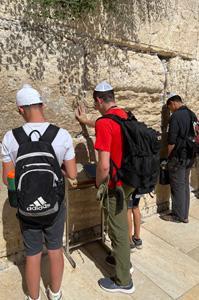 LEXINGTON, Va., June 23, 2022—Wherever in the world Virginia Military Institute cadets travel, they make an impact. So it was during a recent 16-day trip to Israel for eight cadets and two staff members, Col. David R. Gray, director of the Center for Leadership & Ethics, and Institute and Corps Sgt. Maj. Tom Sowers.
The tour of the country was arranged through The MirYam Institute, a U.S. based, 501(c)(3), non-profit. MirYam was established as a forum for leading Israeli experts of diverse and varied perspectives. MirYam's program, I-SAP (Israel Strategy & Policy) tour is designed for U.S. military cadets to travel throughout the country, learn about Israel, its place among the nations, and its relationship with the United States. During their visit, VMI cadets, as well as cadets from the U.S. Military Academy at West Point, the U.S. Air Force Academy, and the Royal Military College Saint-Jean in Canada, were briefed by elected officials, generals, ambassadors, media analysts, jurists, and ministers.
"VMI's objective was to get our cadets to network and befriend cadets from other military academies to build long-term relationships," said Gray. "We accomplished that goal since the cadets traveled together and roomed with different people in each of the many places we stayed throughout the country."
The VMI cadets, along with the cadets from the other academies, participated in a debate during their tour. Four debate teams were assigned the task to defend an option involving how Israel should deal with the Palestinians, a question that world leaders have argued for decades. Each team researched the topic and offered a ten-minute presentation. The VMI team won the debate, based on their ability to sway the judges' opinions. "I was very proud of our team," said Gray. "They took a challenging, sensitive question and presented a well thought-out, intelligent deliberation. They were up against stiff competition, and came out the victors."
The group visited The Knesset, Israel's legislative body and met with seven legislators. They spoke with former prime minister, Benjamin Netanyahu, as well as a supreme court justice, and the former head of the Mossad, the national intelligence agency of Israel.
"At VMI, we pride ourselves in producing citizen-soldiers. Israel is a perfect example of a nation of citizen-soldiers to show our cadets. Every man and woman, as soon as they turn 18, is conscripted to serve for two to three years, then in the reserves for a time," said Gray.
Sowers was also captivated with Israel. "There are so many parts of the trip I enjoyed, that could be considered my favorite part," said Sowers. "Listening to Netanyahu speak ranks at the top. As a Christian, walking Jesus' path to the cross and visiting where he was crucified, where he performed the miracle of two fish and five loaves of bread, and where he walked on the Sea of Galilee ranks high too. But truthfully, the most impactful was touring the Yad Vashem Holocaust Museum and listening to one of the last few survivors of the Holocaust. Seeing 'man's inhumanity to man' and listening to the survivor's testimony was very sobering. It was a horrifying reminder of how cruel mankind can be; what can happen if good people stand by and allow evil to happen."
Patrick Simmons '25 said it was life changing. "I study history in my free time and know a lot about Israel and Jerusalem. Visiting these places I have read about was absolutely mind blowing," said Simmons. "Israel is a paradise in the desert and reminds me of California. It is like a green jewel in the desert. The Israeli people are extremely friendly and love talking to Americans, which made me feel at home in a foreign country." Simmons noted that there are many places that fly the American flag alongside the Israeli flag.
Alan Arnesen '23 thought the trip was an amazing experience. "Being able to meet with some of the best minds in the nation, and travel to some of the most cherished and historical places in the world is something I will never forget," said Arnesen. "My favorite part was going through the holy and historical sites throughout the country, especially in Jerusalem. We saw some of the most important sites in Christianity. Something I was surprised by was the similarities and differences in the Israeli culture from ours. Some parts are very westernized and almost the same as most places in the U.S., however, there are also parts that are vastly different."
"This trip was a graduate-level experience for our cadets," said Gray, "We saw so many magnificent achievements of the Israelis. They are our friends; we share Western values, and they are the only democracy in the Middle East. I'd like VMI to participate in the program again. It is a great opportunity."
Marianne Hause
VMI Photos by Sgt. Maj. Tom Sowers and Cassidy Dufour '23
Communications & Marketing
VIRGINIA MILITARY INSTITUTE