CE Labs Show Breadth of Engineering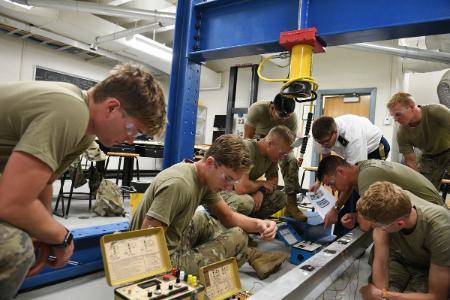 LEXINGTON, Va., Nov. 8, 2021—This academic year, 2nd Class cadets majoring in civil and environmental engineering (CEE) are the first to experience lab classes purposely designed to teach engineering as it's encountered in the real world and make better use of the academic day.
Over the summer, Col. Charles "Chuck" Newhouse, department head, worked with other members of the CEE faculty to revamp the lab courses, which are an integral part of the civil engineering curriculum.
"We essentially took three labs and combined them into two while keeping the same total number of credits," explained Newhouse. "This has allowed cadets a little more flexibility in scheduling, which was necessary because the academic day is very restricted for STEM majors."
To revise the labs, faculty members went back to a previous approach. The department once had two labs, simply called CE Lab 1 and CE Lab 2, so that model was used as a guide.
"Going back to the past has actually allowed us to bring new topics into the lab sequence and modernize what we are able to cover," said Newhouse.
In addition, lab class sizes have been intentionally kept small, at just seven or eight cadets, to ensure that each cadet gets individual attention. Labs now meet once per week, for three hours at a time, and over the course of the academic year, the goal is to cover 20 to 30 topics.
Teaching one of the new lab classes this fall, with a focus on structural engineering, is Col. Matt Swenty, professor of civil engineering.
"This lab is designed to expose [cadets] in two semesters to different experiments and different applications that they'll see in the field," said Swenty. "Environmental engineering, materials engineering, geotechnical engineering, structural engineering, transportation engineering, and water resources engineering—there's all of that mixed into these labs."
On a Monday afternoon in late September, seven cadets gathered in the structures testing lab to perform an experiment on an aluminum I-beam. After helping them refresh their knowledge of load-bearing equations that they'd learned in solid mechanics, Swenty told them they'd be testing the service load, or realistic load, of the beam by having one cadet stand on it while the others measured the stress and strain on the beam via a variety of gauges.
A week earlier, the cadets had measured the pressure inside a soda can that had been shaken up and compared that to the pressure of an unshaken soda can.
"This approach to the lab makes us see so many more aspects of civil engineering than we'd otherwise be able to see," said Liam Iovinella '23.
Max Brimigion '23, a wide receiver on the Keydet football team, appreciates the usefulness of the math that undergirds engineering concepts.
"I like the variety that we're doing," he said. "We're applying all of those concepts that we've learned in math classes to the real world, which is neat to see. It makes those difficult classes worth learning because now we get to see how we can apply it."
Next semester, new labs covering soils and fluids will be offered as well.
Mary Price
Communications & Marketing
VIRGINIA MILITARY INSTITUTE