Cyber Defense Lab High School Internship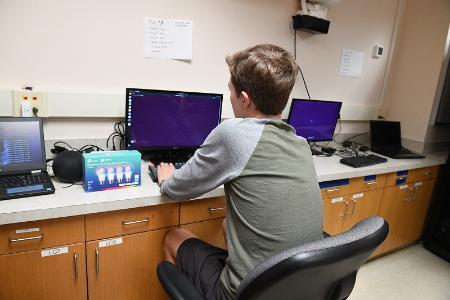 LEXINGTON, Va., April 26, 2022—The Computer Information Sciences Cyber Defense Lab at Virginia Military Institute offered a paid, fully immersive high school internship program during Spring semester, provided through a grant from the Commonwealth Cyber Initiative (CCI), which was matched by CyDef. Under the leadership of Computer and Information Sciences assistant professor, Dr. Mohamed Azab, the goal of the program is to provide the students a better understanding of cyber and motivate them to become cyber security leaders. The program involves a group of seven local high school students, who went through a rigorous application and vetting process to get accepted. They are from Rockbridge County High School in Lexington, Parry McCluer High School in Buena Vista, as well as a home school group. The interns have met each weekday after school from 4-6 p.m. for seven weeks. The program ends May 4. 
The interns have worked with eight VMI cadets on two projects:
Internet of Things

(IOT) Box (

IOT

is

a representation of the smart interconnected devices

people use

at home

and

work

.

)

IOT can make life easier, but also opens the door for sophisticated and dangerous

cyber-attacks

.

This

box

is

filled with

the inter

connected

devices

:

web camera, raspberry pi

(

low cost, credit-card sized computer

)

, smart

outlet

and smart light bulb

,

Google

Home and Amazon Alexa

. The students learn the secrets of such networks and devices,

built

them by hand and

attempted to

hack them. The unique experience

allowed

the students

to

understand the

mindset of

cyber

attacker

s

as well as

learn

ing

best practices to balance convenience

with

public

and private safety and security.

This p

roject

was l

ed by Cor

e

y Jones '22,

a

computer science major

.
"Turnout"

app designed to provide

notifications with

information

about events

to the Corps of Cadets

.

Students worked with cadets to learn, design and develop complete software programs.

The app p

roject

was

l

ed by Cole Corson '23,

a

computer science major

.
Two Virginia Tech graduate students have also participated in the program. They brought innovative tools to the internship site where students practiced hands-on experience using innovative products built for cyber security education. 
- VMI -