Former CIA Officer and FBI Special Agent Shares Leadership Insights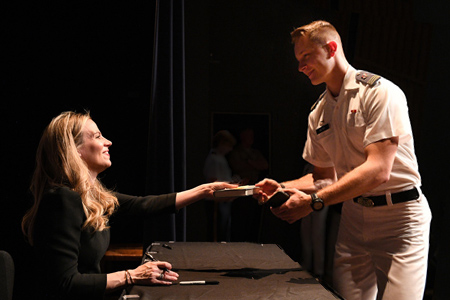 LEXINGTON, Va., April 28, 2022—The Virginia Military Institute Center for Leadership and Ethics welcomed former CIA officer and FBI special agent Tracy Walder as the final speaker in the Courageous Leadership Speaker series of the spring 2022 season. While on post, she also spoke to an international studies class on terrorism and had lunch in Crozet Hall with cadets interested in national security.
Walder's memoir, "The Unexpected Spy," details her career. She is the first woman to have spent time on the operations side at both agencies. In her address, Walder shared her experiences from childhood through becoming a university professor to highlight how they shaped her leadership journey. In attendance at this free public talk were VMI cadets, faculty, staff, and local residents.
She began by emphasizing she did not see herself as a leader, but rather an introvert, and never loud or boisterous as she prefers to "fly under the radar.'' Born with a birth defect called hypotonia which affects muscle development, sometimes known as "floppy infant syndrome," her mild case made her the target of bullying, but she pushed herself to be physically active and even become part of her school's dance team. She recognizes that those early experiences helped her develop tenacity.
Walder comes from a long line of military family members. Her father, a veteran and university professor, encouraged her to read fiction and non-fiction war stories, which spawned a love for American history and inspired her to become a history teacher. Thanks to a meeting with one of her professors, however, she learned there was more that she could do with her history degree. Then in 1997, she saw an interview on CNN with Peter Arnett and Peter Bergen speaking to Osama bin Laden, where he declared his fatwa against the United States and Jews, which piqued her curiosity about the world of counter terrorism. She took as many relevant courses within history as she could, such as Middle Eastern History, Introduction to Islam, and others. Approaching graduation from the University of Southern California, she brought a copy of her resume to the college career fair and, on a whim, dropped it off at the CIA table and much to her surprise, she got a call for an interview.
Ultimately, she believes she got the job because of a characteristic which is part of the cadet leader development system at VMI: the development of soft skills. "We don't focus enough on that sometimes." Walder said the list of soft skills that she believes helped her included flexibility, curiosity, critical thinking, the ability to listen to criticism, and active listening.
Walder left the CIA's counterterrorism unit after years of traveling all over the world. She then joined the FBI to focus on domestic terrorism. She is quite candid in her book, as she was during her talk, about bullying and how it found its way back into her life and career while at the FBI. Many of the challenges she faced personally and in her career spurred her to take them on as an "'I'll show you' sort of a situation," she observed.
"The CIA showed me what I wanted to teach," she said. "The FBI taught me who I wanted to teach," meaning encouraging young women to learn about national security and also to stand up for themselves. She calls this being part of the solution as choosing to be an "upstander" rather than a bystander.
Today, Walder uses her CIA and FBI experiences and background in history to create domestic terrorism and criminal justice curriculum and war gaming instructional courses as a teacher, professor, and board member.
During the Q&A portion of the evening, a cadet asked her to share how she handles stress. It was a powerful and transparent moment during the presentation as Walder explained that the result of her CIA undercover work led to PTSD and the realization that she needed to focus on herself. She said she receives psychotherapy, "and that's OK," but her way of handling stress was to find an outlet for her brain. Today, running is a go-to outlet, but also watching shows like "The Real Housewives," where she can turn her brain off. Laughing at her own confession, Walder said, "We can't judge people about what that outlet is."
Another cadet asked her for advice for the women in the audience seeking careers in similar fields. Walder explained that there is no prescriptive way, however, it's important to know the reporting chain for grievances. She suggested, "It's worth working through those things." She added that it's important for women to find male and female allies who value supporting one another.
The full video of Walder's talk at VMI can be seen here.
Maj. Catherine Roy
VMI Photos by H. Lockwood McLaughlin
Communications & Marketing
VIRGINIA MILITARY INSTITUTE