Jackson House Museum Offers New Tour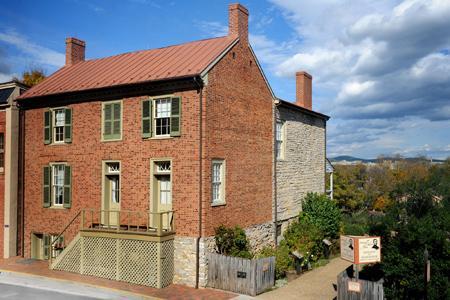 LEXINGTON, Va., July 5, 2022—As part of its ongoing Master Guide Tour Series, the Jackson House Museum is presenting a new guided tour called "Stonewall Legends." On this tour, visitors explore Jackson's former home and address myths, misconceptions, and misunderstandings surrounding Thomas Jonathan "Stonewall" Jackson. This tour opened July 1 and will be available to the public through September 30.
Jackson was an enigma to many people, mostly because he did not like to talk or write about himself. But like his widow Mary Anna Jackson noted, once Jackson left their home in Lexington to fight in the war, "The life of my husband belonged to his beloved Southern land, and his private life became public history." Once he became known as Stonewall, people wanted to learn everything they could about him. This demand for information on Stonewall unfortunately has generated a great deal of misinformation regarding his history. Through the "Stonewall Legends" tour, the staff at the Jackson House Museum look to correct much of this misinformation and hope visitors learn a little more about the real Thomas Jackson.
Was he treated poorly by his stepfather as a young boy? Was he really a bad professor at VMI? Did he have a romantic relationship with his sister-in-law? Did he have a falling out with his sister Laura over her Unionist views? Were lemons his favorite fruit?
Through the Master Guide Tour Series, visitors to the Jackson House Museum will explore the history of Thomas Jackson and his Lexington home in new and exciting ways. These guided tours are available Tuesday through Saturday, twice a day, at 9 a.m. and 4 p.m. Tickets for the Master Guide Tour Series are $15 for adults and $12 for youth ages 6 to 17, with discounts available for AAA members and active or retired military members. Visitors who purchase a Master Guide Tour Series ticket will also receive access to the self-guided tour of The Jackson House Museum. Visit www.vmi.edu/museums-and-archives/jackson-house-museum/ to learn more.
-VMI-