Scott Shipp Hall Renovations Celebrated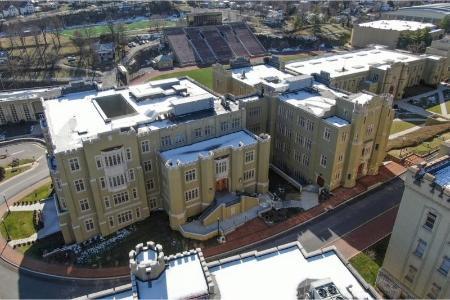 LEXINGTON, Va., Jan. 31, 2022—The Scott Shipp Hall ribbon cutting on Saturday, Jan. 29, in collaboration with the Board of Visitors meetings, celebrated a five-year planning, design, and construction effort totaling $43 million. The project included a 28,000-square foot expansion and a complete renovation of the previously-existing 68,000-square foot space. Progress could be seen from just about every area of post over the years, including from the home-team seats in Foster Stadium. A beloved giant crane in place from fall 2019 until summer 2020 across from Crozet Hall practically became a part of the Corps through frequent social media posts from cadets.
The wrap-up of the most recent expansion and renovations of Scott Shipp Hall came at a time when materials were hard to come by or delayed due to the effects of the coronavirus pandemic. Ironically, when the groundbreaking of the facility happened in the summer of 1918, material shortages were a problem for the workers then, as well, due to the impacts of World War I.
In addition to being the home to multiple departments' classrooms and offices, including history, economics, international studies, English, rhetoric and humanistic studies, the building has a photography lab, an art studio, a 70-seat auditorium, and courtyards for outdoor study. In addition, it now holds a 3,600-square foot space for the John Adams '71 Center for Military History and Strategic Analysis.
Cadets' needs were top of mind in the design, and the benefits are already paying off. "In the [international studies] space, our offices surround a central study area where cadets congregate," said Lt. Col. Patrick Rhamey, associate professor of international studies. "This significantly improves the frequency and quality of cadet interactions. When cadets have a question or concern, they can quickly ask their professors, and the new arrangement has been conducive to a lot of great, constructive discussions outside the classroom."

Originally named Smith-Shipp Hall, the building, costing about $138,000, was changed to Scott Shipp Hall in June 1921. It was the home to all academic departments except engineering, chemistry, biology, and physics for many years. The building was gutted in 1955 with a two-story wing addition, then a three-story annex was added in 1958. Major updates took a halt until 1996 when the interior space was renovated.
Scott Shipp, VMI Class of 1859, was born in 1839, the same year as VMI. He became a professor, the longest-serving commandant, and then the Institute's second superintendent. During his time as superintendent, the first electric light was switched on at VMI, the Blue Book was adopted, and he initiated the construction of the first purpose-built library at VMI. He died in 1917. Attending the ribbon-cutting ceremony were Shipp's great-granddaughter, Julia Littlefield, her husband Mo, and their son, named after his great-great-grandfather, Scott Shipp Littlefield.
Maj. Michelle Ellwood
VMI Photos by Kelly Nye and H. Lockwood McLaughlin
Communications & Marketing
VIRGINIA MILITARY INSTITUTE