VMI Celebrates December Graduates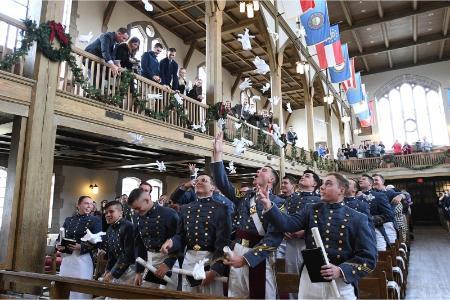 LEXINGTON, Va., Dec. 21, 2021—Just shy of 40 cadets crossed the stage in Memorial Hall during the commencement ceremony on Dec. 21.
This semester's graduates and their guests heard from Lara Tyler Chambers '03, vice president of the VMI Board of Visitors. Chambers is founder and co-owner of Tyler Development Group LLC, an engineering and real estate development group, in Richmond, Virginia. She graduated with a degree in civil engineering. During her cadetship she achieved the rank of regimental cadet captain, serving as the Institute's first S7 staff, responsible for cadet life and Corps morale. She is a third-generation graduate of VMI.
Chambers offered the graduates tips and recommendations she has learned along the way, including telling them to drink water, have respect for others, and to have a life outside of work—"keep your day job your day job." She also encouraged them to never stop learning. "Learning gets a little easier once you're away from school because it's easier to see the relevance."
Chambers wrapped up her advice with something they hear a lot through their cadetship: never give up. But she also told them to make life fun. "I hope you make lots and lots of goals, just make having fun one of them."

The evening before was a time to recognize the seven commissionees who were graduating. Three commissioned to the Army, three to the Marine Corps, and one to the Air Force. Offering officer remarks and administering the oath of office was Maj. Gen. Johnny K. Davis, the 15th commanding general of U.S Army Cadet Command in Ft. Knox.
Davis emphasized the intelligence and strength of those commissioning this year across the nation, including more than 800 this month alone. "We're in really good hands," he said. He reminded the seven commissionees to always be positive regardless of circumstances, always love their service and those who serve beside them, invest in the soldiers assigned to them, and stay humble.

Graduates were excited to have loved ones in attendance, as those the year before weren't as lucky. The December ceremony in 2020 was a virtual event, also recognizing May graduates since they were not able to have a graduation due to the coronavirus pandemic.
Maj. Michelle Ellwood
Communications & Marketing
VIRGINIA MILITARY INSTITUTE