VMI Holds Commencement for Class of 2022
Lexington, Va., May 19, 2022—Pride, honor, and tradition filled Cameron Hall as Virginia Military Institute held its commencement ceremony and conferred degrees on the Class of 2022 on Monday, May 16.
Degrees Conferred to 318 of Class of 2022
Maj. Gen. Cedric T. Wins '85, superintendent, noted that when the Class of 2022 matriculated on August 18, 2018, with 519 members, it was the largest matriculating class to date. From that original group, 318 graduated, and 187 (56%) of them commissioned into the armed services on May 15.

Wins used his time at the podium to reflect on the unusual circumstances faced by the Class of 2022, one of the few classes to endure the full effects of a global pandemic. Their cadetship was punctuated with challenges, as there were restrictions placed on their education in the virtual classroom, physical training had limitations, sports seasons were rescheduled or postponed, internships went virtual or were canceled, and even military training drastically evolved.

Wins noted that things began to return to a more normal cadet experience for the Class of 2022 during the past year, when they not only succeeded in completing their own cadetships, but also in running a professional Rat Line for the Class of 2025. "A crisis brought on by COVID-19 stared you down, but you succeeded as adaptable leaders," said Wins.

Wins concluded his speech by congratulating the graduates and encouraging them to hold onto the concept of honor, the very bedrock of VMI. "People will measure your character by a high standard because you are a VMI graduate. Embrace the heritage of those that have successfully followed this narrow path. Strive to preserve and enhance the foundation of honor you live by," closed Wins.
Valedictorian Speaks of Honor, Integrity, and Decency
Christopher Hulburt '22, peer-elected valedictorian of the Class of 2022, majored in history with minors in literary studies and Spanish. He served as president of VMI's Omicron Delta Kappa Circle, was a peer consultant at the writing center, was Golf Company executive officer, a member of Phi Alpha Theta and Sigma Delta Pi, and a prosecutor on the Honor Court. Hulburt addressed his brother rats by talking about the values that brought them all to VMI, and the moments that kept them there. "Unique individuals come to VMI, those who are eager, confident, and ultimately naïve," he said, followed by laughter from the audience. He stated that students are drawn to the Institute by words like honor, courage, and duty, but quickly learn that VMI is an unusual place that offers unique challenges. He acknowledged that their cadetship has been marked by vocal critics questioning the system that defines their daily lives at VMI. "In a time when several hundred of our peers in Colorado Springs, Annapolis, and West Point have collectively admitted to violating their honor, we have remained steadfast in our commitment to honesty, academic integrity and responsibility," he declared, to a loud roar of applause and cheers.
Hulburt continued by sharing the short but meaningful moments that kept the class at VMI. Many were funny, and helped deal with the stress that comes with being a cadet. Some were poignant and awe inspiring. Some provided a sense of accomplishment, some a sense of fulfillment, and some provided small pits in their stomachs. He summarized, "We came to VMI for many reasons, but we stayed for one another. Let us meet society's loudest critics with the decency, care and devotion that we have shown one another."
In closing Hulburt shared that the last year has been challenging and grievous. He mourned the loss of his father. He revealed that he keeps a list on his phone of hundreds of names of those who have offered support to him throughout the year. "Whenever I feel the need for encouragement, I look at the names on the list and think of you. I take considerable pride in calling you my brother rats, and look forward to marveling at your accomplishments."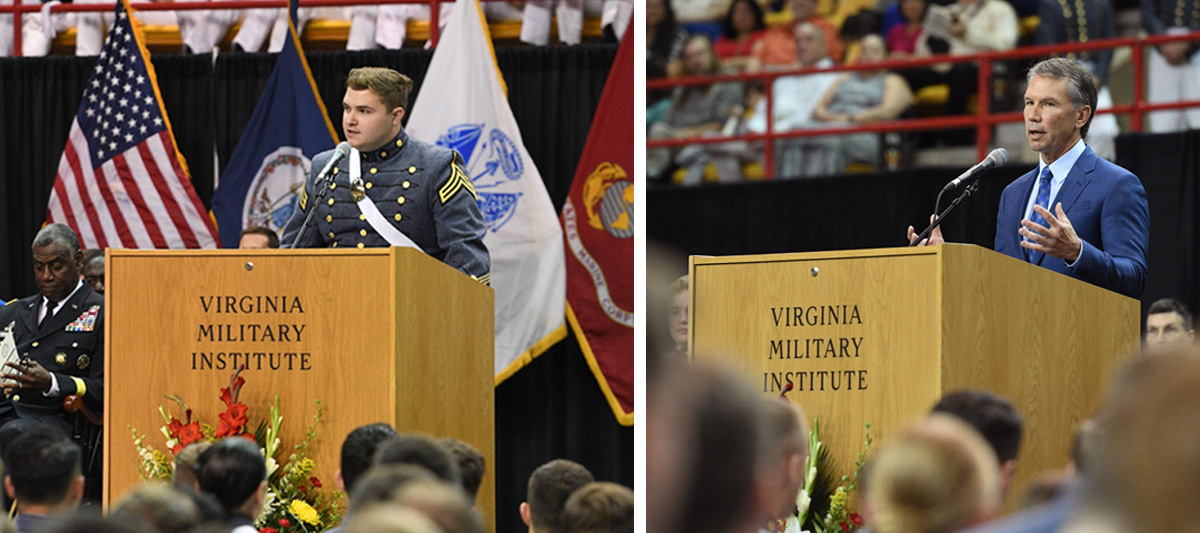 Chris Hulburt '22, valedictorian, smiles as he shares fond memories of his cadetship during his speech in Cameron Hall. Jim Kavanaugh, CEO of World Wide Technology, addresses the Class of 2022 during the VMI commencement ceremony on May 16.—VMI Photos by H. Lockwood McLaughlin.
Guest Speaker Shares What Makes a World-Class Leader
President of the Class of 2022, Noah Kirk '22, introduced the commencement speaker, James "Jim" Kavanaugh, co-founder and chief executive officer of World Wide Technology (WWT), a technology company employing nearly 7,500 people. For the past 11 years, WWT has been listed as one of Fortune's 100 Best Companies to Work For, and Kavanaugh has been highly rated on several Glassdoor CEO rankings.
Kavanaugh graduated from Saint Louis University and was a member of the 1984 U.S. Olympic team. He was a chairman and founder of Saint Louis Football Club, a team in the United Soccer League. He now is an investor owner in the Saint Louis City Soccer Club, a new Major League Soccer franchise. In addition to supporting the athletic community, Kavanaugh is very active in the nonprofit community. He served as president of the board for St. Patrick Center, an organization serving the homeless in Missouri. He has led very successful campaigns for the American Cancer Society, allowing the renovation of a home-away-from-home for cancer patients and their caregivers. Other organizations Kavanaugh has supported include the ALS Association, Toys for Tots, Junior Achievement, and United Way.
Kavanaugh spoke about what it takes to build a world-class life and to become a world-class leader. He challenged the cadets to think about what they consider to be their next phase in life. "Is it a job, a career, or a calling?" he asked. "Ask yourself, what are your goals, values and behaviors, write them down and reflect on them daily," he advised.
Kavanaugh also warned the cadets never to underestimate the importance of hard work and perseverance. "The harder I worked, the luckier I got," he joked, but the point was taken seriously. He continued to say that grit and determination got him through hard times.
He advised his audience to always be courageous and true. "Stand up for yourself and for those around you." He warned that being a leader is not always easy and advised the cadets to learn how to have difficult but constructive and productive conversations. "Take chances, don't be afraid to make mistakes, and don't let your setbacks crush you, this is how you learn and grow. Remain humble and grounded."
Kavanaugh concluded his speech by challenging the cadets to give back and make a positive impact. He noted that there is a contagious effect of good deeds that transcends the world.

Maj. Gen. Cedric T. Wins '85 presents Rachael Dickenson '22 with the Society of the Cincinnati Medal during the commencement ceremony held in Cameron Hall May 16. Noah Kirk '22, president of the Class of 2022, addresses his brother rats during commencement.—VMI Photos by H. Lockwood McLaughlin.
Awards Presented
Three awards are traditionally given at VMI's May commencement exercises. The First Jackson-Hope Medal for highest attainment in scholarship, accompanied by the Commander Harry Millard Mason Academic Proficiency Award, went to Joseph Malazo '22, an international studies major who earned a minor in national security and commissioned into the Navy.

Receiving the Second Jackson-Hope Medal, accompanied by the Col. Sterling Murray Heflin 1916 Academic Proficiency Award, was John Delaney '22, an English major with a triple concentration in literary studies, philosophy, and rhetoric & writing.

Rachael Dickenson received the Society of the Cincinnati Medal, which recognizes efficiency of service and excellence of character. The Society of the Cincinnati Medal is accompanied by the Richard J. Marshall and Sumter L. Lowry Awards.
Commencement concluded with the incoming regimental commander relieving the Class of 2022 of their duties as they tossed their gloves in the air.
Marianne Hause
VMI Photos by H. Lockwood McLaughli
Communications & Marketing
VIRGINIA MILITARY INSTITUTE