VMI Ranks No. 5 in Money Magazine Best Colleges List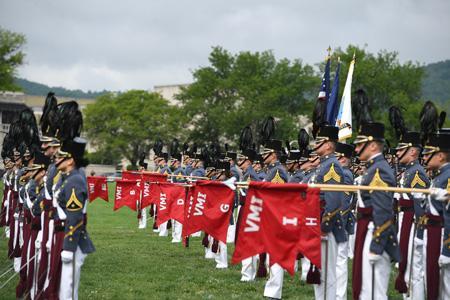 LEXINGTON, Va., May 17, 2022—Virginia Military Institute came in at No. 5 overall out of the more than 620 colleges ranked on Money magazine's 2022 Best Colleges list. This is a jump from No. 26 from the last list published in 2020.
In the announcement shared on Monday, May 16, VMI was also ranked highly in the small school size and public school lists. The publication reports that ten years after enrolling, students who attend VMI post median early career earnings of nearly $72,000.
VMI is in good company in the top five overall with University of Michigan, University of North Carolina at Chapel Hill, University of Virginia, and Massachusetts Maritime Academy. The rankings include U.S. colleges reviewed on 24 factors in three main categories: quality, which notes graduation rates and instructor access at each school; affordability, looking at short and long-term affordability, net price of a degree, and amounts typically borrowed through federal programs; and outcomes, which is primarily based on reported earnings and employment data. The full 2022 list can be found at www.money.com/bestcolleges.
The Money magazine ranking affirms VMI's place among the nation's top colleges and universities. The Wall Street Journal / Times Higher Education 2021 rankings and the 2022 U.S. News & World Report placed VMI as the No. 3 and No. 4, respectively, on their lists of top public liberal arts colleges in the country.
For more information on how to apply to VMI, visit https://www.vmi.edu/apply.
Maj. Michelle Ellwood
Communications & Marketing
VIRGINIA MILITARY INSTITUTE