Wins Inaugurated as VMI Superintendent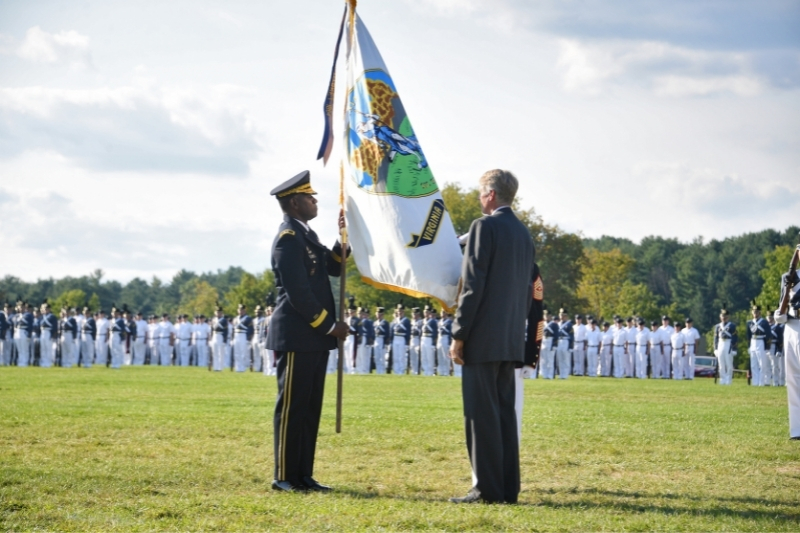 LEXINGTON, Va., Sept. 14, 2021—On a clear and pleasant afternoon, Maj. Gen. Cedric T. Wins '85 was inaugurated as Virginia Military Institute's 15th superintendent Friday, Sept. 10, and honored with a parade by the Corps of Cadets and a reception in Marshall Hall.
Wins came to VMI in November 2020 as interim superintendent following a 34-year career in the U.S. Army. In April 2021, he was named superintendent by a unanimous vote of the VMI Board of Visitors. Earlier this year, Wins released his "One Corps-One VMI: A Unifying Action Plan," which focuses on five goals: honor, diversity and inclusion, the VMI brand, competing and winning, and one VMI.
Friday's parade and brief ceremony were marked by a mix of military traditions and those unique to VMI. Prior to the parade, faculty members donned their academic regalia and processed from Moody Hall to the Parade Ground, where they were seated.
Wins was honored with ruffles and flourishes and a 13-gun salute from VMI's howitzers before trooping the line to inspect the Corps of Cadets with Thomas "Tom" Watjen '76, president of the VMI Board of Visitors, and Cadet 1st Captain Kasey Meredith '22.
After the colors were brought forward and the national anthem was played, Sgt. Maj. William T. "Tom" Sowers passed the VMI regimental flag to Watjen, who then passed it to Wins. Later, Wins received the key to the main door of the 1816 arsenal which preceded VMI, becoming the fourth VMI superintendent to take part in this unique tradition.
"VMI is strong and will remain forward focused," said Wins in brief remarks at the parade. "Since our founding, we have weathered many storms, and they have helped us to improve. Our foundation is solid and not easily shaken… VMI remains what it always has been: a disciplined community for learning and leadership development dedicated to the highest standards of integrity and personal honor."
Special guests at Friday's ceremony included Lt. Gen. John W. Knapp '54, the Institute's 12th superintendent; Virginia Deputy Secretary of Education Fran Bradford; Virginia Chief Diversity Officer Dr. Janice Underwood; and state Sen. Thomas "Tommy" Norment '68.
Other guests included Wins' family, friends, and brother rats, along with some key individuals who held leadership positions at the Institute when Wins was a cadet. Among them were Col. Edward "Ed" Claiborn, who was head of the economics and business department; Col. Harold B. "Buzzy" Snyder '56, commandant; and Charlie Schmaus '66 and Marty Fletcher, basketball coaches during the 1980s.
Also in attendance were current and former members of the VMI Board of Visitors, leadership from colleges and universities from across the commonwealth, and representatives of local and state government.

Mary Price
Communications & Marketing
VIRGINIA MILITARY INSTITUTE