Wins Receives MOWW Distinguished Service Award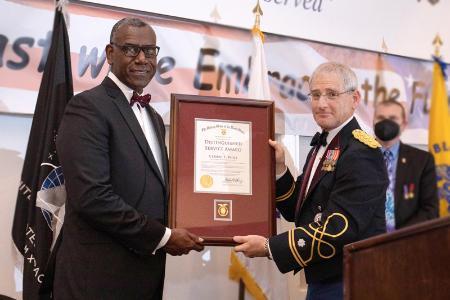 LEXINGTON, Va., Aug. 10, 2022—Maj. Gen. Cedric T. Wins '85, VMI superintendent, appears on the cover of The Office Review's July-August issue as he was named the recipient of the 2022 MOWW Distinguished Service Award. The Military Order of the World Wars (MOWW) honored Wins at a ceremony in early August in Jacksonville, Florida during its 102nd National Convention.
"It means so much to be recognized by this organization that was founded on the principles on citizenship, leadership, and dedication to our country," said Wins. "These are the same values I am honored to see develop in the cadets at VMI and that I've seen throughout my military career. I am grateful to MOWW for this award and to be among the remarkable individuals who were recognized before me."
The history of the MOWW dates back to 1919. The more than 160 MOWW chapters across the country promote patriotism, good citizenship, and individual responsibility, while offering programs for youth and recognizing men and women who lead courageously.
Michelle T. Ellwood
Communications & Marketing
VIRGINIA MILITARY INSTITUTE