Boonshoft Part of With Good Reason Segment
LEXINGTON, Va. March 17, 2023 — Lt. Col. Mark Boonshoft, associate professor in the history department and chair in American Constitutional History at Virginia Military Institute, will discuss the literacy tests that denied many Black Americans the right to vote during Jim Crow on the public radio program, "With Good Reason," March 18-24.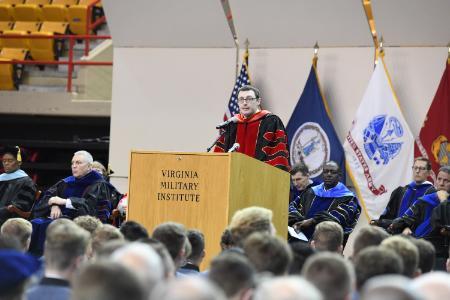 In addition to Boonshoft, the upcoming show, "Save the Small Sums," will feature Justene Hill Edwards from the University of Virginia, Janira Teague from Morehouse University, and Charles Chavis from George Mason University. The episode will discuss African Americans looking for a better life, but also the many challenges in saving money, buying land, getting an education, relocating to other areas of the country, and the violence they faced along the way.
With Good Reason is sponsored by the Virginia Foundation for the Humanities. Local broadcast times, as well as audio files of full programs and companion news features, are on the With Good Reason website.
- VMI -