Marshall Foundation to Host Author of WWII Book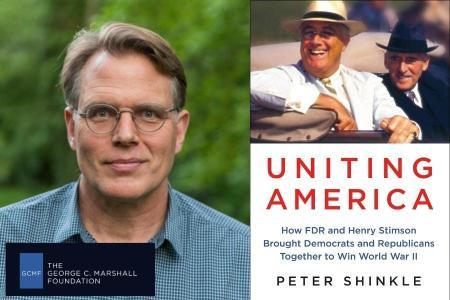 LEXINGTON, Va., Nov. 3, 2022—The George C. Marshall Foundation will host a lecture by author Peter Shinkle on his new book, "Uniting America: How FDR and Henry Stimson Brought Democrats and Republicans Together to Win World War II" on Thursday, Nov. 10, at 5:30 p.m., at their building located on VMI Parade Avenue on Virginia Military Institute post. The event is free and open to the public, but reservations are required.
As Hitler's Nazi forces threatened Europe, democratic President Franklin D. Roosevelt called on a divided America to mobilize to defend democracy and freedom. Many republicans accused Roosevelt of needlessly leading the nation to war and called on America to remain neutral. On June 20, 1940, Roosevelt shocked the nation by announcing that two of prominent republicans would be appointed to his cabinet. Former President Herbert Hoover's Secretary of State Henry Stimson became Secretary of War, and 1936 republican vice-presidential candidate Frank Knox became Secretary of the Navy.
Roosevelt wanted to build national unity with his appointment. But forming a bipartisan coalition was a risky move that could backfire politically. It also put bipartisan relations at the center of America's conflict with global fascism. It passed congress with strong bipartisan support. After Roosevelt's death, Stimson continued to advocate bipartisanship under President Truman in the final chapter of the war. This alliance is an historic example of united leadership in a country marred by political divisions.
Peter Shinkle worked for 19 years as a news reporter before bringing an investigative journalist's eye to writing about American history.
A reception and book signing will follow the lecture. Copies of Shinkle's book will be available for $32.50. To make reservations and for more information, email events@marshallfoundation.org or call 540-463-7103, ext. 138.
-VMI-