VMI Holds Change of Command Parade
LEXINGTON, Va. May 14, 2023 — Under a picturesque blue sky, the change of command parade was held on the Parade Ground at Virginia Military Institute Sunday, May 14 at 2 p.m., as the 183rd Regiment handed over leadership of the Corps of Cadets to the 184th Regiment for the 2023-24 academic year.
In front of a substantial crowd of family, friends, alumni, faculty, and staff, the Corps marched out of barracks as the Regimental and pipe bands played a medley of U.S. Military Branch theme songs.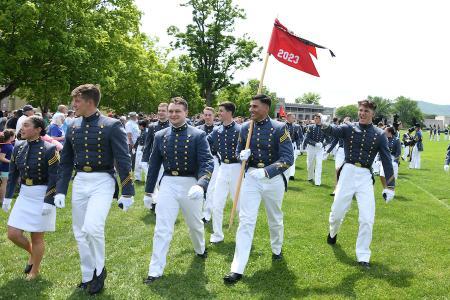 It was the last parade for Blake Smith '23 as regimental commanding officer (RCO). Smith, a native of Crozier, Virginia, majored in economics and business, commissioning into the Marine Corps, and was this year's recipient of the General Douglas MacArthur Cadet Award, presented to a 1st Class cadet who emulates and practices the qualities exemplified by MacArthur and has demonstrated the most soldierly performance, considering academics, athletics, and leadership.
Maj. Gen. Cedric T. Wins '85, superintendent, conducted the change of command ceremony, as Smith relinquished the VMI Regimental flag and company guidon to Wins, who in turn presented it to incoming RCO, Mark Shelton '24, a computer science major from Stafford, Virginia, who plans to commission into the U.S. Army.
As RCO, Shelton hopes to set an example, motivate his fellow cadets, and give them the best opportunities to be successful at VMI. "I am extremely honored to serve as the regimental commander in the 184th Regiment.  The change of command parade is the first time the incoming commanders officially fulfill their duties leading the Corps, and assuming leadership of the Corps of Cadets is a moment I will treasure and not soon forget."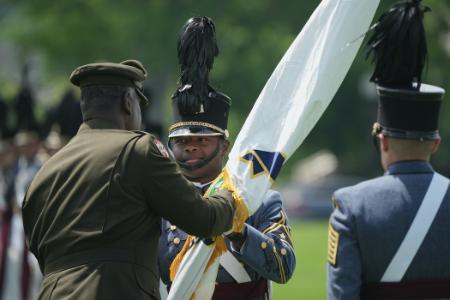 As the 184th Regiment took command of the Corps of Cadets, the 183rd Regimental commanders were relieved of their duties and commanded to "Fall out!" to the cheers and applause of their fellow 1st Class graduating cadets, who were excused from marching in the parade, enjoying it seated in a place of honor.
Smith; Cameron Cavanaugh '23, 1st Class president; and Brandon Marks '23, Honor Court president, joined Wins in taking review of the parade as the new regiment passed before them.
The parade closed with the singing of "VMI Spirit."
Marianne Hause
Photos by Kelly Nye
Communications & Marketing
VIRGINIA MILITARY INSTITUTE