VMI Holds Commencement for Class of 2023
LEXINGTON, Va. May 17, 2023 — Pride, honor, and dignity filled Cameron Hall as Virginia Military Institute held its commencement ceremony and conferred degrees on the Class of 2023 Tuesday, May 16. Thousands of family members, friends, and others were in attendance to witness the stirring ritual. Among the group of graduates was a chair set aside holding a brick representing the late Jamison Clark '23 who passed away tragically in November of their rat year. Clark's brother rats carried the brick effigy to all the significant ceremonies throughout their cadetship, and invited his family to the graduation.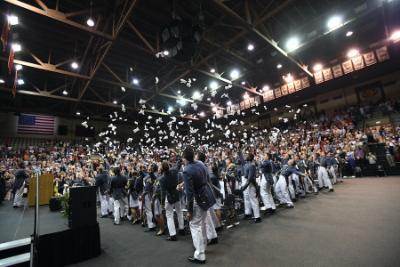 Degrees Conferred to 306
Maj. Gen. Cedric T. Wins '85, superintendent, noted that the Class of 2023 matriculated on August 17, 2019, with a strength of 515 members. From that original group, 306 graduated, and 53% of them commissioned into the armed services May 15.
Wins used his time at the podium to reflect on the class's unique rat year. He lightheartedly recalled the football game when the Keydets scored 63 points, forcing the rats to do a record number of pushups after each touchdown. He reminded them of their Breakout on a cold wet day in February, after which they formally became the Class of '23.
"Every cadetship is unique and yours was unlike anything in recent memory. During 2019 there was fear about an ongoing viral outbreak plaguing college campuses – the measles. However, this became an afterthought after what you experienced shortly after breakout. COVID-19 arrived in the United States and our lives changed forever. You are one of the few classes at VMI to endure the full effects of the global pandemic. You finished your spring semester in a virtual setting, and by the time you returned in August, none of us were quite sure what was in store," he lamented.
Wins noted that the class faced many challenges, including turmoil about the VMI culture imposed upon the entire Corps, but what mattered was how they responded. "You let people see you as who you are - cadets of character, who embody a code. Few others can come close to living up to that code, you did magnificently. You understand the importance of integrity, you stand against intolerance and hate. You embody humility, and demonstrate a sense of humor. You have embraced the differences you arrived with, and molded them into the strength on your class," he said proudly.
The class was able to return to a more normal cadet experience with an in-person Ring Figure celebration and finished strong in the classroom, athletic field, and in military training. "Even your ring is engraved with 'through shared suffering,' a reference to the unique set of experiences your class endured," Wins commented.
Wins concluded his speech by congratulating the graduates and encouraging them to remember the important lessons they have learned. "The world needs and deserves principled leaders of character. I challenge you to serve the people around you. Become leaders in your family, your community, the commonwealth, and the nation."
Valedictorian Charged His BRs to Lead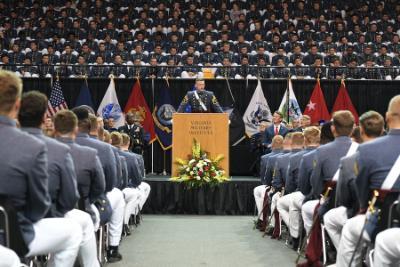 Samuel H. Wolfe '23, peer-elected valedictorian of the Class of 2023, stated that he, along with many others, was first drawn to VMI by the concepts of honor, courage, service, and a desire to be part of something bigger than themselves. "However, after the countless parades, inspections, trainings, practices, the seemingly meaninglessness of military regulation, had our perspective of VMI become jaded?" he asked.
Wolfe conceded that VMI had been difficult for his class for many reasons. In addition to losing Clark, they lost others due to poor academic scores, loss of interest, financial struggles, and a few for less than honorable conditions. He lamented having to wake up each morning at 5:30 for physical training, followed by classes, long hours of studying, and other responsibilities demanding full attention. "But through the struggles, the Class of 2023 was transformed," he said, and went on to mention many class accomplishments. "In a couple months one of us will become a Navy SEAL, another holds the third highest batting average in VMI baseball history, a couple continue hopeful journeys to professional sports, a couple were named the top Army ROTC cadets in the nation, one just completed a 24-hour run to raise funds for Operation Enduring Warrior, a handful of us will attend law school, a few of us are going to medical school, and a large number are going on to serve in the military.
"So, what's the point? VMI teaches the one who will let it, to be comfortable with the uncomfortable. American theologian John Piper said, 'You don't have to know a lot of things for your life to make a lasting difference in the world. But you do have to know the few great things that matter, perhaps just one, and then be willing to live for them and die for them.' Too many people in our generation do not want their lives to make a difference, they only want to be liked and to have easy, carefree lives. That is a tragedy," he argued.
Wolfe evoked Jonathan Daniels '61, a VMI alumnus, who was murdered while shielding a young girl from a shotgun blast in 1965, and asked, "Was that a tragedy?"
He mentioned Gen. George C. Marshall, Class of 1901, who lived his entire life under the constant pressure of innumerable responsibilities, and found little rest in life, and again asked, "Was that a tragedy? No! It would be a tragedy for us to not use the discipline we learned at VMI. John Quincy Adams said, 'If your actions inspire others to dream more, learn more, do more, and become more, you are a leader.' America needs principled warriors, officers, even fathers and mothers. Let us be willing then to be the leaders the nation so desperately needs. I wish you the joy of service and honor. I wish you the joy of making the choice to value others above yourself. God has surely blessed me with the joy of knowing you all. It's been a pleasure and honor," Wolfe concluded.
Wolfe, a biology major, graduated as a distinguished graduate with institute honors, with a GPA of 4.0. He held rank, served as a member of the S2 staff, which serves as academic advisors to the Corps of Cadets, for the 3rd Battalion, and was cadet in charge for the Navigators Bible study.
He is the son of Ted and Amy Wolfe. Wolfe commissioned into the Army and received a waiver to go directly into medical school at Virginia Commonwealth University School of Medicine in Richmond. He will attend basic officer leader course (BOLC) at Fort Sam Houston in San Antonio, Texas.
Commencement Speaker Gov. Glenn Youngkin
President of the Class of 2023, Cameron Cavanaugh '23, shared farewell remarks to his brother rats in the form of a poem that was at times humorous, tender, poignant, and fully heartfelt. He then introduced the commencement speaker, Gov. Glenn Youngkin, who challenged the cadets to ask themselves, "Who am I?"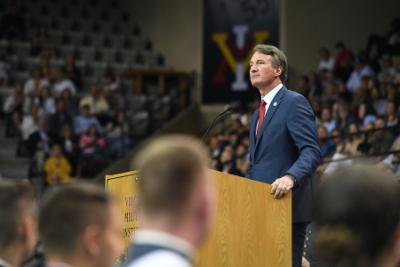 He opened by sharing with his audience that the world is filled with unlimited opportunities, and real moments that will challenge them to the core of their being, and at every opportunity, choice, or challenge, they will stop and reflect, "Who am I?" He assured the graduates that they are fully equipped to answer that question with confidence, and reminded them of a few things.
"You do not lie, cheat, steal, or tolerate those who do," quoting the VMI Honor Code. "In a complicated world, could there be any more inspiring truth as men and women who live honorably? You live by a code that incorporates words like integrity, character, respect, and stands against prejudice, hate and oppression, that honors our great country, commonwealth, Corps, family, and friends.
"You have gratefulness in your heart. At a time when the expression of gratitude has been replaced with a culture of entitlement, two of the most powerful words in the English language are 'thank you.' You place honor above self, and are committed to being a servant leader.
"You are graduating from an Institute whose mission is to produce exceptional men and women, like Jonathan Daniels, and General George Marshall, and G. Gilmore Minor III, who captained the baseball and football teams at VMI, became CEO of his family's business, served the commonwealth in many ways including leading the Council of Higher Education.  Gil loved and served VMI."
Youngkin marveled that the graduates will be whatever they resolve to be; from brave warriors in the armed services, to engineers, to teachers, to health care workers, to business leaders, to ministers. "Through all walks of life, you will forge a better, more perfect union because you are from VMI."
To those who chose to enter the military he said, "Collectively, you will be part of the greatest armed service the world has ever seen. You will dominate land, air, sea, and space – and, yes, remind us all that freedom is not free."
Youngkin closed by saying, "You have worked hard, probably harder than any other students anywhere in the nation. Virginia is proud of you. Our nation needs you and will look up to you. The world will witness your talents and successes. Class of 2023, when you ask yourself 'Who am I?' Stand tall, and answer confidently because you are a VMI Graduate, and you will inspire the world."
After receiving a standing ovation, Youngkin was presented with a saber from Cavanaugh on behalf of the Class of 2023.
Awards Presented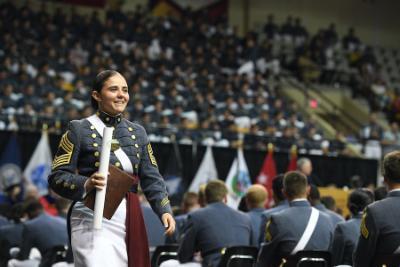 Three awards are traditionally given at VMI's May commencement exercises. The First Jackson-Hope Medal for highest attainment in scholarship, accompanied by the Commander Harry Millard Mason Academic Proficiency Award, went to Wolfe.
Receiving the Second Jackson-Hope Medal, for second highest attainment in scholarship, accompanied by the Colonel Sterling Murray Heflin 1916 Academic Proficiency Award, was Philip M. Argauer '23, an electrical and computer engineering major with a minor in mathematics.
Wolfe also received the Society of the Cincinnati Medal, for efficiency of service and excellence of character, accompanied by the Richard J. Marshall and Sumter L. Lowry Awards.
Commencement concluded with a benediction offered by Col. Bob Phillips '87, chaplain, followed by Mark L. Shelton II '24, the new regimental commander, relieving the Class of 2023 of their duties as they tossed their gloves in the air.
Marianne Hause
Photos by H. Lockwood McLaughlin
Communications & Marketing
VIRGINIA MILITARY INSTITUTE