VMI Launches Accelerated Grad Program with VT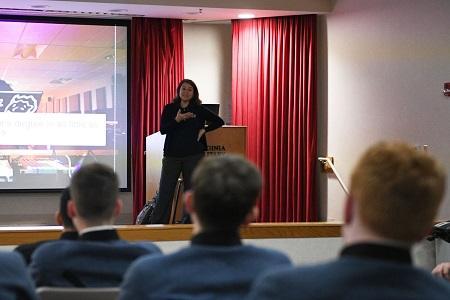 LEXINGTON, Va., Dec. 13, 2022—Virginia Military Institute and Virginia Tech have partnered to launch a new accelerated master's degree program for a Master of Science (MS) and Master of Engineering (Meng) in computer science and applications/computer engineering for VMI cadets. The program is open to all majors, as long as essential courses have been completed. Cadets may begin the courses as early as the 2023 spring semester.
According to Lt. Col. Youna Jung, associate professor in the Department of Computer and Information Sciences at VMI, it is the first program for a master's degree at VMI. "The benefit of the accelerated program is to reduce time to completion of a graduate degree. Cadets at VMI can take up to 12 graduate credits deemed eligible for a VT graduate degree. The 12 credits will allow cadets to complete their master's program in one year," she said.
Brig. Gen. Bob Moreschi, dean of faculty at VMI, said of the new program, "VMI is excited to partner with Virginia Tech to offer this opportunity for cadets to complete a graduate degree in as little as one year after graduation. Employers across the commonwealth highly value VMI graduates, and in this increasingly competitive marketplace for technical talent, this partnership affords cadets the opportunity to accelerate their career development."
Cyril Clarke, executive vice president and provost at Virginia Tech agrees. "This program creates pathways for students looking to advance their careers in the sought-after fields of computer science and computer engineering. We are proud to collaborate with VMI to further opportunities for our graduates and serve the technology capacity and expertise needs of our commonwealth," he said.
Access to the program is limited to students currently enrolled at VMI. They must attain an overall minimum GPA of 3.3 for the Meng and 3.5 for the MS at the time of application. Once accepted into the program, they must maintain an overall GPA of 3.0 for the remainder of their undergraduate coursework
Marianne Hause
Communications & Marketing
VIRGINIA MILITARY INSTITUTE